Fellow:Maggie Brown
Jump to navigation
Jump to search
Serving as UIF Since: Fall 2018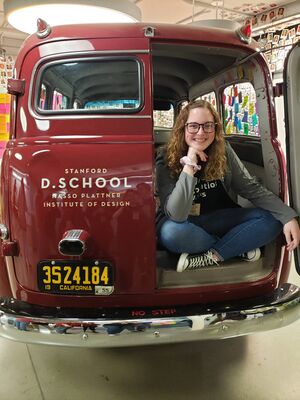 School: Wichita State Univeristy
What She Does Now: Junior in Aerospace Engineering with a minor in Mathematics and President of the Society of Women in Space Exploration
What Does That Mean: Is really passionate about space and space exploration
Contact Her About: Space, starting student organizations, product development
Email: mxbrown18@shockers.wichita.edu
Phone: (620) 200-0332
Maggie Brown in a Universtiy Innovation Fellow at Wichita State University. She is an undergraduate student in Aerospace Engineering with a minor in mathematics. She is expected to graduate in December 2021.
Maggie first found an interest in using design thinking during her first semester at Wichita State when she took the freshman seminar Introduction to Technology and Innovation. This course came with the requirement to use the design thinking process, which was taught in class, to come up with a product. She and her team created a revolutionary doorstop called Lyfelock that was created as an extra barrier to be put in place during an emergent hostile situation in a school setting. The team was one of the five teams to qualify for the final round of the Koch Innovation Challenge. In the end, Lyfelock won the People's Choice award. She has also competed in the Shocker New Venture Competition and Invent for the Planet.
As a UIF on campus, Maggie has been working on a project called Shocker Study Space which would increase student knowledge of facilities on campus that students can use to study. While interviewing students, she noticed that many students did not stay on campus to study. Upon further investigation, Maggie figured out this is because many students do not know where they can study on campus. She is planning on encouraging students to stay on campus to study by creating a comprehensive list and distributing it to students. She is also involved with Startup Grind U, which was started by Jessica Aldrich, and Innovation Station, which is being run by Christian Ammerman.
Outside of UIF, Maggie is involved with Gamma Phi Beta, The Society of Women in Space Exploration (SWISE), and Engineering Ambassadors. Her involvement with Gamma Phi Beta allows her to be involved with sorority's philanthropies, Girls on the Run and Heartspring. She has also served on many committees. Maggie founded the Wichita State Chapter of SWISE in May 2019 and is currently serving as the chapter's President. The goal of SWISE is to encourage the diveristy of space exploration.
Related Links
Wichita State University
Wichita State University Student Priorities
Spring 2018 Fellows
Spring 2017 Fellows
Spring 2016 Fellows
Fall 2015 Fellows
---
---