Fellow:Leslee Weible
Jump to navigation
Jump to search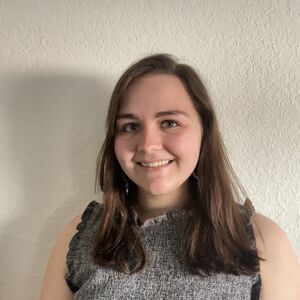 Name

Leslee Weible

School (Cohort)

Central Michigan University (2022 cohort)

Majoring in

Apparel Product Development and Merchandising Technology

Country

United States

Email
Bio
Leslee Weible is an electrical engineer currently finishing her MS in Apparel Product Development and Merchandising Technology at Central Michigan University (CMU). She finds the connections between science, math, and fashion compelling leading her to explore elements of these in both her creative and academic endeavors. This passion can be found in her designs including a featured exhibit, Axolotls and the Beauty of Regeneration, a collaborative showcase of science and design. Leslee's other research passions include functional design, primarily regarding thermal comfort. She has worked with CMU's Center for Merchandising and Design Technology since 2019 where she was first introduced to the analytical side of the fashion industry. This relationship gave her the opportunity to participate in research using the thermal manikins in the lab, stoking her curiosity in the field. Weible's goal of advocating for a space for interdisciplinary thinking and design principles that connect people's passions within the collegiate environment was solidified here where her own passions finally met. Throughout her college career, Weible has participated in groups such as the Society of Women Engineers (SWE), the Institute of Electrical and Electronic Engineers (IEEE), Alternative Breaks, and the Fashion Graduate Student Association (FGSA). These organizations allowed Weible to interact and understand the experiences of other students at within the walls of CMU and outside. Along with these, Leslee is active in her research with one work published and two being presented at a conference in the fall of 2022. Outside of academia, Leslee enjoys a multitude of activities including crocheting and travel. Her travels have taken her to Ireland for a study abroad experience in her undergrad and other countries like France and Germany, where she maintains friendships. Lately she has stayed close to home to spend time with her dog, Newton, and visit family in her home state of Pennsylvania.
Achievements
Honors Graduate
Threads Fashion Show Designer
Weible, L.J., et al. (2021). Baby manikin opens doors to research opportunities. AATCC Review.
Social media profiles
https://www.linkedin.com/in/lesleeweible/ https://twitter.com/LesleeJayne https://www.instagram.com/ljweeble/
---
---