Priorities:Central Michigan University Student Priorities
Jump to navigation
Jump to search
Strategy #1: Developing a Culture of Creativity
Tactic #1: Creativity Conference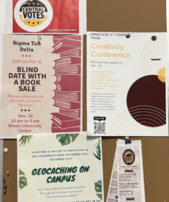 Description Overview: The creativity conference is a 1.5-2 day event that students will come to collaborate and develop their creative approach to problem-solving. As a physical location is feasible, this conference can also be held virtually and can be possible for students all across the world.
Team Leader:
One issue that was brought up in trouble shooting was marketing the event. Some solutions might be that there could be coverage on different institutional social media and tabling on campus. Along with this, there was an issue with the way that the event was conveyed. There has to be enough information to entice the students to participate but also give them information that would let them know what this new event is really about and explain what it means in more than a couple vague sentences.
The creativity conference will be built off of the momentum of the series of consecutive creative jams that are hosted and implemented throughout the university.
Strategy #2: Creating a Centralized Digital Resource Center
Tactic #1: Social Media Account Content Delivery
Description: The focus on the creation of an interactive resource center located within the cmich.edu website is the end goal for this strategy. To begin, we must start somewhere past various agile sprint cycles that must be developed to implement the website transformation... this is why, as we are meeting together with teams to edit cmich.edu, we will start with social media.
To begin with general resources, our base-case account will be built out of Instagram.
Team Leader:
With implementation of resources, our strategy is to develop the content in 3 stages: people, places, niches.
People first. Our first posts and stories will be featuring people, specifically agents of change on campus that other individuals can reach out to for resources and help.
Places next. To understand all of the physical locations between CMU's various contexts, we will implement each internal resource inside of our various buildings
The niche resources to include will be imperative as the collective student body begins to read between the lines for resource sharing and collaboration. (Ie., Adobe Creative Suite, etc.)
Tactic #2: Geographic Information System Implementation between University Website and Communications

Geographic Information System
we have included our prototype for what the website resource would look like. Rather than approaching the typical CMU map from a drivers lens, we need to connect people to people.
This is our prototype from social media account with the intention of being able to share information right away. Lastly, we will focus on scaling the idea from social to the website by collecting CMU resources over the next semester and working to collaborate with the web design team.

Strategy #3: Collaborate with Student-Led Initiatives to Implement Design Thinking Methodologies
Tactic #1: Creative Jam/ Design Thinking Pop-Up(s)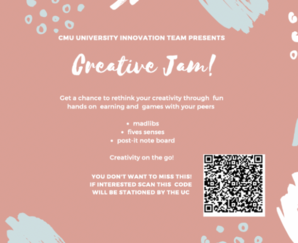 Description: The Creative Jam is designed for students having a hard time with academic burn out. When you think of the last time you were unapologetically creative, I personally think of when I was a kid. This brought up the idea of having a creative jam tabling event.
Team Leader: Rebecca Ridenour
Students will be able to come up on their own terms and experience childhood creativity like a sensory lab, group madlibs, and reflection activities. An issue that was experienced through trying to market this idea was that flyers do not attract students to events and students feel like they need a free item for coming to events. There was also another issue with the lack of information on my flier and what the goals were of the event.
The Creative Jam would be a great idea to get the interest of creativity embedded into students and make it, "if you participate you get entered to win a giftcard," so the barriers to entry are as minimal as possible. The Creative Jam, based on input from our stakeholders has been pivoted to be a series of built up events, or "pop-ups" that will be very lean and easy to build over time.

---
---