Fellow:Leilani Moten
Jump to navigation
Jump to search
Leilani Moten is a University Innovation Fellow and currently an undergraduate ( Sophomore)  student studying Marketing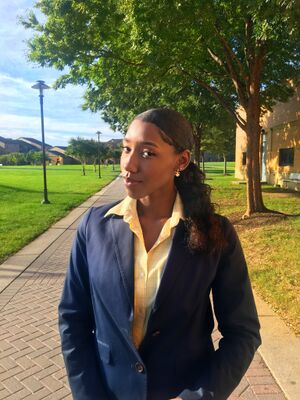 within the
Earl G. Graves School of Business & Management at the illustrious Morgan State University, Baltimore, MD.  Leilani currently has as a 3.8 G.P.A. which she balances with her many extra curricular activities and leadership roles on campus. Leadership roles including working as a Teacher's Assistant in the business school for the orientation of business class and serving as the Miss Caribbean Student Association.Leilani has been involved with A.B.C. a prime modeling organization on campus, as well as N.A.A.C.P.
Leilani is also able to use her creativity and passion for giving through her own company, Lani's Baskets' Leilani founded Lani's Baskets spring of 2017 when she noticed she could use her passion for love in order to spread the sentiment throughout her campus . She began taking orders for her personalised Lani Love Baskets which offer a wide variety of Bears, candy, personalized cards, roses, and even balloons.  The Valentines day basketballs were such a success she continued for easter and so on. Currently Lani baskets is expanding to not only offering customized baskets for holidays ( ie.Valentine's day, Easter..) but for any life event such as Homecoming's, Anniversaires and the signature " Just because I love you" .
Leilani is a self starter and always pushes herself to try new things. Through her creativity, entrepreneurship, and leadership Moten plans on continuing to be an active member of the Morgan State community and spreading love in all she does.
---
---