Fellow:Lauren McMillan
Jump to navigation
Jump to search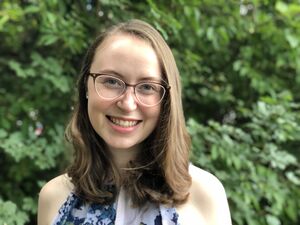 Lauren McMillan is a University Innovation Fellow and Masters student studying Business Engineering and Production, specializing in Product and Service Innovation at the Lucerne University of Applied Sciences and Arts (German: Hochschule Luzern, or HSLU). Lauren was raised in the Canadian Rockies then moved East to complete her Bachelors at the University of Waterloo. There she studied Nanotechnology Engineering with an option in International Studies in Engineering.
The international part came into play when she relocated near the Alps, completing a series of internships in Switzerland in 2016. Upon finishing her Bachelors, she returned to Switzerland for a final internship, before setting her sights on the Business Engineering and Production program at HSLU. Her advisor is the University Innovation Fellow Faculty Champion, and through him, as well as courses with University Innovation Fellows from HSLU's previous cohort, she was introduced to the UIF program.
At HSLU, Lauren's masters project work has focused on Open Innovation, and collaboration with the innovation ecosystem. Through this work, she co-led a Design Thinking Workshop for employees of a local company. She is interested in how to transform invention to innovation by working together.
Related Links
Lucerne University of Applied Sciences and Arts
Lucerne_University_of_Applied_Sciences_and_Arts_Student_Priorities
University Innovation Fellows, 2019:
Rachel Cummings
Lauren McMillan
University Innovation Fellows, 2017:
---
---