Fellow:Khaliun Amarjargal
Jump to navigation
Jump to search
Khaliun Amarjargal or simply Holly is a Junior, majoring in Technology Management with an emphasis on IT atUtah Valley University (UVU).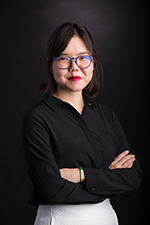 Currently working on a Tsunami Mitigation research project in Indonesia with collaboration of UVU, BYU faculty and students.After graduation she hopes to complete a Masters as well as PhD program in Educational Technology.
Holly was born and raised in Mongolia, the land of eternal blue sky. After moving to Utah, homesickness began to build up, and that is when she found herself getting involved in many programs such as: Honors, UVU Mentor, and International Student Council. She believes these are some of the best decisions she could have made. Holly is an advocate of engaged learning and believes that that is what helped her do many things she would never have thought of doing, such as aspiring to be a professor in STEM.
---
---