Fellow:Khalilah Manson
Jump to navigation
Jump to search
As a proud Flyer attending the University of Dayton (2019), Khalilah Manson is in pursuit of what she thinks is one of the coolest things in the world: a Bachelor's Degree in Computer Engineering.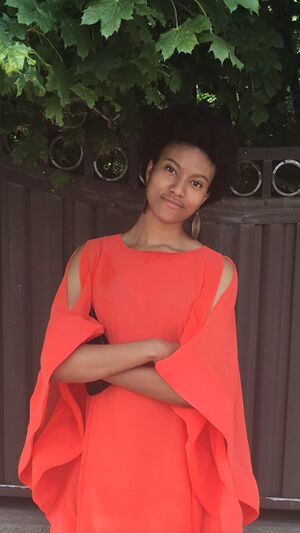 It all started at a young age, forcing loved-ones to engage in science experiments during birthday parties, glorifying math, finger-painting - all as a young girl on the southside of Chicago. Eventually her interest led her to participate in Chicago State University's Pre-Freshman Engineering Program in association with the National Society of Black Engineers as a Highschooler. Learning her love for code, winning several robotics and math competitions (at various locations including Chicago's Museum of Science and Industry) as well as holding the Presidential position of CSU's Jr. NSBE Chapter (2013-14), led Khalilah to find her life's purpose: "To become an Engineer with the awesome ability of inspiring others and innovating life as we know it."
Now, Ms. Manson is the Senator for UD's Collegiate NSBE Chapter, a Q*mmunity Leader for UD's LGBTQ+ students, Participant in UD's Minority Engineering and Leadership Programs with a Cyber Security research assignment with the Wright-Patt Air Force Base. Recently, she won the RSA/EMC Cyber Security Competition at the 2016 NSBE National Convention as a fully active student on campus with the only regret of "doing it all without coffee." Even with a full load of representing and serving the University of Dayton's community, she became a camp counselor for UD's Summer High School Women's and Honors Engineering camps in order to serve the community of the future.
But besides being the person that is used to holding the office titles of Web Developer, Project Manager, and Key Volunteer at the same time, she likes to do a whole slew of things. From writing poetry to screenplays, cooking dinner to creating dance routines, she has a passion to continually expand her horizons in order to defy stereotypes. In conversation she states that, "All of that might be interesting to hear from a Computer Engineer but I'm always going on about how being an engineer is being an artist and how I want to show that the American Dream can be painted with several different shades of stories, occupations and people."
With a goal to change the phrase of "Good job, you've overcome the odds" to "Thanks for erasing the unnecessary obstacles for generations to come", Khalilah Manson is excitedly a University Innovation Fellow Candidate. Those close to her have all heard her story and know her larger-than-life dreams and ideations, yet always describe her as the comic who humbly considers herself like everyone else:
"I want to touch the world, I grew up wanting to be a mermaid and I watch Apple Keynotes with popcorn to feel better about life…. People don't admit the last two, but we all have that in common. "
---
---