Fellow:Kenae Turner (Elizabeth City State University, 2022)
Jump to navigation
Jump to search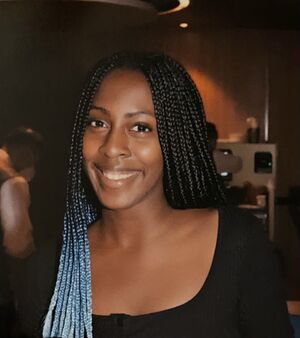 Name

Kenae Turner

School (Cohort)

Elizabeth City State University (2022 cohort)

Majoring in

Birth through Kindergarten

Country

United States of America

Email
Bio
Serving as a UIF Since: Fall 2022
School: Elizabeth City State University
What she does now: International Programs Ambassador & College senior
What that means: She helps prospective students with their study abroad applications and organizes workshops and events to increase involvement and interest in studying abroad among her peers while completing her last year of undergraduate school abroad at Toyo University in Tokyo, Japan.
Contact her about: Cultivating mutual understanding between people of other countries and the people of the United States, incorporating STEM in your classroom, education, teaching, what it's like teaching abroad, sewing, studying languages, traveling, and studying abroad.  
Email: katurner378@students.ecsu

Kenae Turner is a twenty-two-year-old full-time first-generation college senior attending Elizabeth City State University. While she was born in Virginia Beach, Virginia, she and her family relocated to Elizabeth City, North Carolina, where she was raised. She is currently majoring in Birth through Kindergarten with a Child, Family, and Community concentration. Before college, Kenae obtained her GED at 16 and soon after traveled alone to Shenzhen, China, to teach English. As a result, she obtained an adoration for traveling and a passion for teaching. Henceforth, after graduate school, she intends to move to Asia and teach English to kindergarteners.
Throughout her college years thus far, she has made various accomplishments. Kenae is a Boren scholar, Gilman scholar, and Renaissance scholar. Additionally, she is a CIEE alumna and a Yonsei University alumna. She has also been awarded the Outstanding Academic Achievement award by the Department of Education at her undergraduate university. She has also made it onto the Fall 2021, Spring 2022, and Fall 2022 Chancellor's List.

Kenae was trained as a University Innovation Fellow in Fall 2022, and attended the Silicon Valley meetup in March 2023. As a University Innovation Fellow, Kenae has worked with her cohort to enhance technology on her university's campus. She found interest in simplifying student attendance tracking for both students and staff, as they currently use traditional methods. The 2022 cohort is still working closely with organizations to adapt platforms that deliver accurate, real-time attendance data that the university can rely on.

She enjoys sewing, learning languages, playing video games, traveling, and reading in her leisurely hours. She also enjoys volunteering. This past year, she has volunteered at organizations such as My Culture Connect and Jacob A. Riis Settlement, teaching English to children and immigrants to support them on their journey toward self-sufficiency in the United States. She is currently studying Japanese and Mandarin to better understand her future students.
Achievements
Obtained 150-Hour TEFL Certificate with distinction
Successfully completed 6-month culture exchange program in Shenzhen China
Completion of the Yonsei International Summer School Program 2022
Certificate of Completion for 120 Courses of Mandarin Class
Outstanding Academic Achievement Award l Birth Through Kindergarten l
Social media profiles
https://www.linkedin.com/in/kenae-turner-1a3a05230
---
---