Fellow:Katura McDaniel
Jump to navigation
Jump to search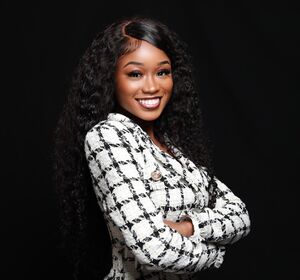 Name

Katura McDaniel

School (Cohort)

Virginia State University (2023 cohort)

Majoring in

Marketing

Country

United States

Email
Bio
🎨 Katura McDaniel
📚 Storyteller | 🖌️ Visual Magician | ✨ Creative Enthusiast
🌟 About Me:
I believe in the magic of storytelling, and I paint my stories through the canvas of design. With each stroke of creativity, I transform ideas into visual masterpieces that captivate hearts and minds. Design isn't just my profession; it's the enchanting realm where I craft experiences, evoke emotions, and ignite inspiration.
💼 Experience:
For 4 years, I've journeyed through the creative landscape, crafting enchanting visuals that speak volumes. From brand identities that leave a lasting impression to digital experiences that immerse users in wonder, my portfolio weaves stories that resonate.
🖌️ My Approach:
I don't just design; I curate experiences. I believe that every pixel should have a purpose, and every color should evoke emotion. My passion lies in combining the artistry of design with the magic of creativity to bring dreams to life. It's not just about aesthetics; it's about crafting narratives that leave an indelible mark.
Achievements
Presidential Scholar TMCF Scholar VSU Honors College Scholar Dean's List
Sophomore Student Council 2022

Summer 2023 Study Abroad Program to Morocco 2023 Virginia State University's Fleischer HBCU Scholars Summer 2020 Community Service VSU-BOLT-QEP program 2022 Women's Appreciation Month Chair 2023 Teens Who Mean Business SHARK TANK 2020
Social media profiles
www.instagram.com/katurax www.instagram.com/littlemissgraphics www.linkedin.com/in/katura-mcdaniel-597451233
---
---