Fellow:Jarrodd Davis
Jump to navigation
Jump to search
Jarrodd Davis was raised in Northern Virginia, outside of Washington, DC, but has incredible love for his North Carolina roots, which includes locating the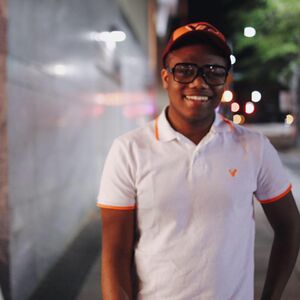 best NC BBQ there is! He is an Urban Planning student at Virginia Tech, also studying Landscape Architecture, Geographic Information Science, and French. Jarrodd is fascinated by cities, and attempts to understand each piece of intertwined fabric that contributes to each city's unique identity. His research interests include preservation of residential and commercial affordability, pedestrian and bicycle infrastructure, as well as public engagement.
Jarrodd is an avid urban cyclist who has worked on public engagement projects along Charlotte's Rail Trail. He works to increase awareness of the health and economic benefits of urban living, as well as increase interaction with all facets of the public realm, specifically plazas, parks, and streetscapes. Jarrodd also enjoys hiking, reading, exploring cities, and reflective writing (in English and in French).
At Virginia Tech, Jarrodd has taken on many roles in student and community organizations. He is a member of the Honors College and serves as a Peer Educator, an invaluable experience where he leads a group of First Year Honors College students through a seminar introducing them to Virginia Tech and the Honors College. He is also a Studio Lead for Virginia Tech's Design for America (DFA) Studio, where he first learned design thinking and has applied the process to local projects impacting social change. Jarrodd works for VT Engage, the Community Learning Collaborative, as an Undergraduate Research Assistant, doing social science research to better understand a variety of community-oriented topics. He also works for the Town of Blacksburg, where he is responsible for writing an ordinance to address the affordable housing crisis in his college town. In addition, Jarrodd serves as an official university tour guide, leading Virginia Tech forwards by walking backwards!
Related Links
Danielle Jeffers - Virginia Tech University Innovation Fellow
Najla Mouchrek - Virginia Tech University Innovation Fellow
Sunny Murthy - Virginia Tech University Innovation Fellow
Virginia Tech UIF Wiki - Learn about Virginia Tech
Virginia Tech Student Priorities - Our goal and mission
---
---