Fellow:Jai Surya Sandeep
Jump to navigation
Jump to search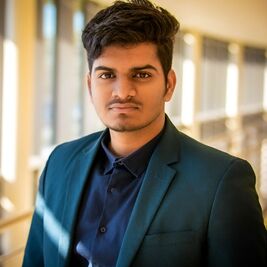 Serving as a UIF Since: Fall 2019
School: Indiana University Purdue University Indianapolis
What he does now: Graduate Student and Teaching Assistant
What that means: He's pursuing his Masters in Human Computer Interaction and also teaches undergraduate students
Contact him about: Cognitive Designing, User Experience and User Interface Design, Design Thinking and
Research, Content Creating, Traveling, Exploring life by being yourself, and chatting about what you're excited about!
Email: jaisurya.thota@gmail.com
Phone: (317) 666-2092
Jai Surya Sandeep Thota
is a University Innovation Fellow from
KL University
. He completed his Bachelors in the stream of Electronics and Communication from KL University with a specialization in UX/UI Design along with expertise in Design Thinking and Innovation. He's currently pursuing his Masters degree in Human Computer Interaction at Indiana University Purdue University Indianapolis. He is part of several communities and student organizations at IUPUI. Desi Jags (Indian Student Organization) and IDEA Fellows are few of them.
He volunteered for a non-profit NGO called "Make A Difference - MAD" for 4 years as Fundraising volunteer between 2017 and 2019. Also acted as Fundraising City Manager for the year 19-20. He's one of the TEDx coordinator during his undergrad and took a major part in hosting TEDx Talks event in 2018 at KL University. He was also part of his college Radio called "KL Radio" in 2018.


He acted as an advisor for a startup called "IDEA (Innovation Design Entrepreneurship and Art)" during his undergrad. He's also into a dance team which performed many flash-mobs, stage events for college festivals, etc. He's good at drafting content for articles and also published a few articles about the life of street vendors, volunteering and UX/UI Design in his college magazine called "Horizon". He did anchoring for a few college events and he always keeps on doing everything that he can do which brings him happiness

He is highly interested in digital content creating, mostly of food and travelling. Introspection, Networking and exploring different cultures are his hobbies. People close to him call him a social freak, because of having many contacts from several colleges, organizations and cities. He's a vivid digital reader of several articles, contents, and books. He's fond of films from every language. He always follows three values, which are SENSE OF FAMILY, LEADERSHIP THROUGH OWNERSHIP and CAUSE ABOVE SELF. He always apply his expertise in design and experience, collaborating cross-functionally with other teams to work together.
---
---