Fellow:JC Maroun
Jump to navigation
Jump to search
JC Maroun, student at Menlo College with a major in Entrepreneurship. JC is from Union City, CA. Maroun helped his father from the beginning stages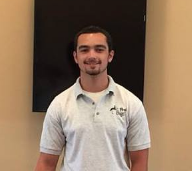 formulate a business plan, aided in the permit, construction process and was instrumental in the start-up and operation of two successful business. The experience of being involved in the planning and execution of two successful business attracted JC to Menlo College. JC believed that Menlo College, also known as Silicon Valley's business school, would be the best decision to pursue a degree in Entrepreneurship. Menlo College, will prepare JC Maroun for his passion of creating a business or working for an established business.
At Menlo College, JC is currently involved in the Pioneer Club that helps/teaches students to expand their networking skills with local businesses in Silicon Valley and the surrounding Bay Area.  JC is the CFO of the Pioneer Club and works with other members to host networking events at Menlo College and at businesses in the Bay Area.  JC works with club members to organize club meetings in an effort to get students engaged in networking events and expand their scope of potential career paths.
From a very young age, he was interested in Entrepreneurship. Both his Grandfather and Father built ran and sold several large companies. JC has been fortunate to have two great role models, which have shared their experiences and knowledge with JC. He is also very involved in sports and motor cross, which fosters building character and discipline through teamwork. The tools JC Maroun learned from playing sports and other activities, JC Maroun has applied to his work ethic, team building and communication skills. JC is passionate about Entrepreneurship. JC's passion and motivation to succeed has enabled him to fully engage in his Fathers last business, which opened his eyes to how much opportunity the business world has to offer and the opportunity one can offer to future team members.
---
---