Fellow:Hedaya Adel Alyahmadi
Jump to navigation
Jump to search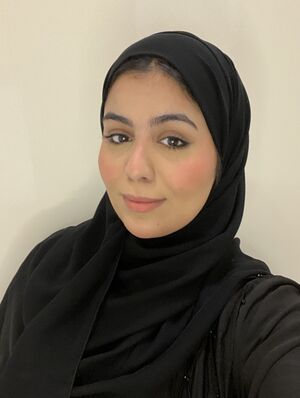 Name

Hedaya Adel Alyahmadi

School (Cohort)

Khalifa University of Science and Technology (2022 cohort)

Majoring in

Chemical Engineering

Country

United Arab Emirates

Email
Bio
Hedaya Alyahmadi is a university innovation fellow from the United Arab Emirates. She is a junior-year student at Khalifa University, majoring in chemical engineering. Hedaya has been passionate person since she was young, she loves challenges and being an outstanding person academically and socially. She believes in teamwork and individual efforts too, a leader can't make a change without the member's efforts. Her colleagues usually called a happy spirit because she can make you feel like you've been friends for years at the first meeting, and working with her is fun but with a lot of achievements.
As a student, her learning perspectives changed a lot in the past few years. At first, she believed that we should learn to have a job and satisfy our parents. As she grew up she realized that she wants to learn because she wants to make a difference in her country and perhaps the world too. Now Hedaya believes that everything is possible and that everyone can be an outstanding person/student in their community, the only difference would be our efforts, goals, and motivations.
Hedaya loves to exploring different cultures and hobbies. Her hobbies currently are writing, singing, playing guitar and piano (level: beginner). Language wise Hedaya is learning Thai language and her plans are to learn Korean and Chinese also.
Achievements
- Volunteering team leader (2019-2020): Hedaya was a team leader of a team that consists of 2000 members from all around the United Arab Emirates. her tasks vary from PR, organizing events, and dividing roles between the group leaders and volunteers.
- During School Hedaya was part of the musical team for 5 years, and for 10 years in the art club.
- Theater roles in kindergarten.
Social media profiles
Twitter: xhanniexx Instagram: xha.045 Linkedin: www.linkedin.com/in/hedaya-alyahmadi-203b10241
---
---