Fellow:Harinee Suthakar
Jump to navigation
Jump to search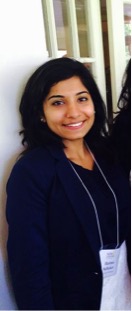 Harinee Suthakar (UIF Spring 2015 Cohort) is a third-year Rehabilitation Science student at the University of Pittsburgh. Her passion for public health and sustainable development led her to pursue a certificate in global studies focused on global health. Harinee is involved in student and community organizations such as Pitt Global Brigades, University Honors College, South Asian Student Association, Phi Delta Epsilon, and the Pennsylvania Center for Women & Politics to further her interests in sustainable development, public policy, and different cultures. She serves her community by volunteering for Gwen's Girls, an afterschool program for at-risk youth girls in Pittsburgh and by working with a local non-proofit organization focused on health and education for adolsecent girls in Nepal. She is a Hospital Elderly Life Program (HELP) volunteer at UPMC Shadyside and participates in various university sservice events. After undergraduate studies, Harinee hopes to attend medical school and pursue a master's in public health. Through her involvement in the UIF program, she has learned ways to incorporate innovation and entrepreneurship into her academic enedavors and expand both fields to her peers at the University of Pittsburgh.
Harinee enjoys working with others and on interdisciplinary teams. She recognizes and understands that undergraduate major curriculums can be rigid and wants to bridge the disconnect between her peers in the School of Health & Rehabilitation Sciences and other schools of Engineering, Business, and Arts and Sciences. Harinee pursues her interests in innovation and entrepreneurship by engaging in student-led workshops and entering competitions such as Pitt's first Sustainability Solutions competition. Her involvement in student orgnizations and events allows her to be part of a larger team and share ideas with students from all over Pitt's campus.
Harinee is proud to learn from and contribute to a group of students who share an interest in innovation and entrepreneurship and strive to improve their college campus.
Related Links
University_of_Pittsburgh_Student_Priorities
University Innovation Fellows
Spring 2016:
Spring 2015:
RTENOTITLE
Fall 2014:
Fall 2013:
Fall 2012:
---
---