Fellow:Guy Gober
Jump to navigation
Jump to search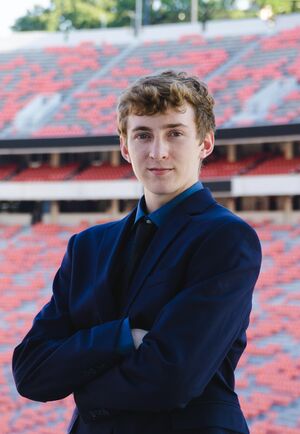 Name

Guy Gober

School (Cohort)

University of Georgia (2023 cohort)

Majoring in

Agricultural Engineering

Country

United States

Email
Summary
Guy Gober is an Agricultural Engineering student at the University of Georgia. Guy is an aspiring entrepreneur in the pool sector is currently developing ultrasonic algae elimination technology for his startup, Pool Protection Technologies. When Guy is not working on his startup, he is at the gym, out for a walk, or hanging out with friends.
Early life
Guy was born on March 25th, 2001, the son of Guy David Gober and Susan Elizabeth Warren. Being the youngest child in a family of 6, Guy grew up with older siblings that consistently challenged him, encouraged him, and offered their wisdom during tough times. Guy had remarkable potential from the start, and didn't waste time trying to do be the best at what he did. In middle school Guy took up distance running, and was able to run a mile in under 5 minutes by his freshman year at Rabun County High School. Gober went on to win 4 state championships during his running career and was voted as the Blitz Cross Country and Track & field Runner of the year. Guy was also member of the Upper 5% club in his high school for all 4 years and was President of Rabun County's Georgia Envirothon team for 3 years. Gober had many different jobs during his formative years; he was a beekeeper, a recycling director, a lifeguard, a poolboy, and a waiter.
College Career
Guy's college career has been full of ups and downs. Guy experienced ¾ of a normal college year before the Covid-19 pandemic, and ended up renovating & restoring a house during quarantine and gained plenty of experience with handiwork. His sophomore year, Guy secured an internship with Tomco Systems as a research and development intern. At Tomco, Guy developed a quality test for dry ice pellets and designed dry ice dies to improve pellet quality & machinery output. During his time, Guy learned about the relationship between engineers, machinists and manufacturers and witnessed the importance of clear communication and well-detailed machining instructions. His Junior year, Guy joined Chiktopia chicken tractors, a startup aimed at creating autonomous pasture raised poultry equipment. Guy helped raise several thousand dollars for Chiktopia and developed great value proposition skills during his time with Chiktopia. After leaving Chiktopia in the spring of his Junior year, Guy worked for his father over the summer developing land from a recently clear cut forest. In his spare time, he worked on his own startup idea to create a pasture meter, capable of measuring the Dry Biomass Weight (DMW) of grass. While taking Sensors and Transducers in the fall of 2022, Guy developed this technology and discovered his passion for electrical engineering. He ended up killing the idea due to a lack of customer markets, but he did learn an important lesson in when to quit. Guy joined the UGA Student Industry Fellows Program (SIFP) during this time, and has completed 4 projects and a mini-sprint with SIFP since joining. These projects leveraged Human-Centered Design to innovate solutions and drive value for Industry stakeholders. Through SIFP Guy has conducted a culture evaluation of Cox Enterprises, proposed a plan to reduce single-use plastics for Delta Airlines, constructed a Web3.0 product launch strategy for Worldstrides Education, and created a feasibility study of the EV infrastructure market for Schreder; as a member of a multidisciplinary team with skills from nearly every respective college on campus. As a Fellow, Guy has applied and developed many different skills, but most importantly, he's found people he can truly call friends & colleagues.
Current and Future mission
After finishing Sensors and Transducers and discovering his passion for electrical engineering, Guy was approached by a close friend, Garrett Stigall, about partnering up for a startup company, Pool Protection Technologies (PPT). After several years as a pool technician, Garrett founded PPT to make pool maintenance easy by providing a chemical free algae solution. Guy was brought onto the team to make this vision a reality, by creating an ultrasonic algae killing machine that we call SAM, and SAM's your new pool boy. SAM emits sound waves at just the right frequency that cause algae to rupture and explode, without harming anything or anyone in the pool, allowing pool owners to reduce their chemical use and save up to $1300 per summer. SAM's currently in the later phase of prototyping and early stages of product development, but with 3 SAM's in pools and 7000 hours of product testing, SAM's in good water. Guy's current mission is to finalize prototyping and do a formal product launch this spring. Guy's future mission is to move to a startup city and be a positive disruptor in the startup ecosystem through PPT, or any other startup idea that drives value. Long-term, it's unclear where Guy will end up, but his mission is clear. Guy strives to find opportunities that few would even dare to imagine, take risks that few would even dare to take, and do awesome things.
Achievements
Master 4H'er
4x GA State Champion in 1600m, 3200m, and 5k
Startup Co-founder
Social media profiles
---
---