Fellow:Grace Rogers
Jump to navigation
Jump to search
Grace Rogers is a University Innovation Fellow and student at University of Wisconsin- Milwaukee.  Her major is Community art, but she is also pursuing a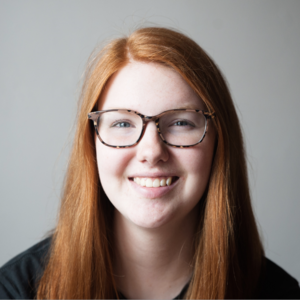 double-minor in both Biology and Conservation and Environmental Science (CES) and a certificate in Cultures and Communities. Furthermore, Grace has filled several on-campus roles, such as Campus Ambassador, Supplemental Instruction Leader, and Innovation Intern at the Lubar Entrepreneurship Center. 
Grace grew up in Cedarburg, WI as the oldest of four children, and she focuses firmly on setting a good example and proving to her siblings that hard work pays off. 
Over the course of her career, she would like to create sculptures and structures that work to actively solve environmental issues, such as water pollution and the endangerment of pollinators. Her dream is to work with scientists, engineers, local government, and community members to create works that are both engaging and effective as a communication tool in the community and also serve an active purpose. 
Grace hopes that UIF will be exactly the toolbox she needs to reach her goals, and she hopes to meet people and learn things that will ease her path. As previously mentioned, her goal has always been to save the world and make an impact environmentally. She loves working with people and she love this planet, so she looks forward to combining her interests and making a difference.
Related:

University of Wisconsin Milwaukee
University of Wisconsin-Milwaukee Student Priorities
---
---