Fellow:Fernando Cruz
Jump to navigation
Jump to search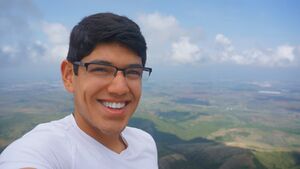 Fernando A. Cruz is a University Innovation Fellow, charismatic entrepreneur, and second-year at the University of Georgia (UGA) Honors Program, studying Management Information Systems and Finance.
Fernando specializes in education reform, economics, and technology implementation. He hopes to implement project-based learning onto college campuses, while spreading the trait of grit amongst his peers. His goal is to increase the number of young entrepreneurs at his campuses and ignite a cultural innovation. Recently, Fernando founded an education company called Groupt Inc., which seeks to update the college tutoring system through an app and web-based console. He works closely with the FourAthens incubator and UGA Tutoring center towards developing a disruptive college tutoring experience. Apart from that, Fernando invests with the stock market and keeps updated with current technology.
In his free time, Fernando enjoys running, mountain biking, watching soccer, traveling, and meeting amazing people. He enjoys conversations ranging from the sports to the stock market, and is an active member in the Zeta Beta Tau fraternity. 
Related Links
University of Georgia student Priorities
Fernado Cruz