Fellow:Felipe Garate
Jump to navigation
Jump to search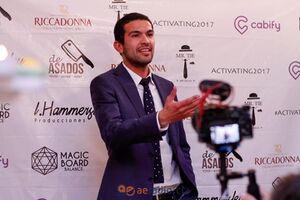 21 years old young enthusiastic entrepreneur. Dedicted and life moments lover. Now on his way to became a fellow.
Born at Talcahuano, Chile. Good experiences and bad experiences have been part of his short life.
His life changed in 2010. With the earthquake and tsunami his family lost everything. Notwithstanding that, life has showed him to see all those problems as an opportunity.
He decided to start his business studies at Universidad del Desarrollo after failing his basketball professional recruitment at a local club. Immediately he started to develop new projects and business ideas. That's how he founded his first company: Mr. Tie Chile (www.mrtie.cl). He now helps little entrepreneurs and give them space into his platform.
After few months of hard and smart work, Felipe decided to create a new concept of meetings in Concepcion. He and his company (well known at the city) wanted to collaborate to the community, creating new instances so people could connect each other and exchange experiences, point of views. People from all classes, all ages. He called that events: "The Connection Nights".
He beliefs in the power of life, the power of attraction: what you think you will get, you will get. He beliefs in that don't matter who you are, if you are big or small, we can all make changes.
I think life is a short experience, it's your call to enjoy and learn!
"small people at small towns doing small things can change the world"
Related Links
Universidad del Desarrollo Strategic Priorities

Fall 2017 UIFs
http://universityinnovation.org/wiki/Nicolas_Osben
http://universityinnovation.org/wiki/Nicole_Pollak
http://universityinnovation.org/wiki/Felipe_Garate
http://universityinnovation.org/wiki/Ale_Contreras_Westermeyer
---
---