Fellow:Erika Storvick
Jump to navigation
Jump to search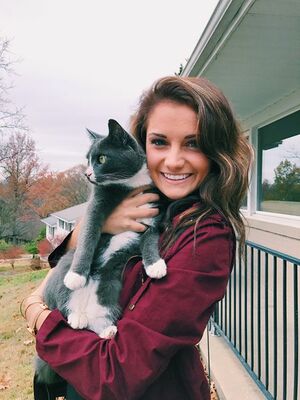 Erika Storvick is a junior at William Jewell College, a small liberal arts school just north of Kansas City. Originally from Columbia, MO, Erika is an undergraduate majoring in Physics with an emphasis in Pre-Engineering. She aspires to continue her education by pursing a phD in physics, mechanical engineering, or related field. While not in class you can often find her in the lab performing research in the field of Fluid Dynamics in WJC's physics department. Erika is an active member of her sorority, Alpha Gamma Delta, and now an active member of University Innovation Fellows.
After three years of college athletics, Erika has decided to focus her efforts on things outside of sports. Although still very passionate about soccer, she has decided to hang up the cleats after her third season in order to become more engaged in other activities that will enhance her educational journey. Throughout her time at William Jewell, Erika has become involved in many clubs on campus including Society of Physics Students, Panhellenic Recruitment Counsel, and during her sophomore year she was inducted into Sigma Pi Sigma - The Physics Honors Society, and Order of Omega - The Greek Honors Society. She has also held several positions in her sorority including Public Relations Coordinator and Purchasing Coordinator. A few passions she has outside of soccer are learning and friendships. Erika has a younger sister who is a senior in high school, two corgis, and as you may have already noticed from the image above, a tuxedo cat.
Erika has always had a passion for leadership and entrepreneurship and it has showed from her involvement in DECA in high school to her involvement in her sorority, campus clubs, and college athletics. She is very dedicated to expanding communication between Student Life offices and the students on her campus, as well as implementing a career fair on campus or in the area, and she believes being involved in University Innovation Fellows will help her succeed in this.
Related Links
William Jewell College Strategic Priorities
Billy Jewelligans
Erika Storvick, Meg Anderson, Conner Foote, Dalton Nelson, Sofia Arthurs-Schoppe, William Hyde, Jesse Lundervold, Denver Strong
---
---