Fellow:Emilio Vera Leal
Jump to navigation
Jump to search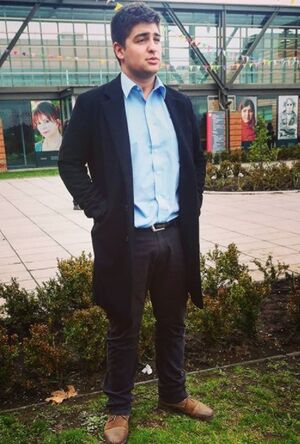 Name

Emilio Vera Leal

School (Cohort)

Universidad del Desarrollo (2020 cohort)

Majoring in

Construction Engineering

Country

Chile

Email
Bio
Emilio Vera Leal, born in Lebu, Chile. Emilio is a person very attached to his family and friends with a great interest in meeting people, generating networks and new friends.
Emilio is passionate about construction, so in his free time he seeks information on the different forms of innovation that are being presented day by day worldwide,
Other of his favorite hobbies are playing sports, spending time with his friends, traveling and doing carpentry work.
He began his university studies in 2013, studying "Mechanical Technician in Industrial Production", graduating in 2015.
In 2017, with the interest of increasing his knowledge, he participated in the "Drilling and Probe" course, at the company "PROMINAS", São Carlos, Brazil, making contact with people from all over America.
He is currently in the third year of Construction Engineering at the INACAP Technological University of Chile, where he has participated in different activities, such as "INACAP Innovation and Technology Fair", applying for the construction project of Geodesic DOMOS, built with recyclable wood. In addition to this, he had the possibility of presenting a project for the construction of a DOMO in his University, in order to have a different place for students, with the intention of being able to carry out extra-school activities, a point of talks and delivery of innovative ideas, being rewarded for the interest they show in motivating their colleagues to demonstrate their interests and increasing the desire to innovate. In 2019 Emilio was selected as a leader, to represent the Construction area of his University, forming a volunteer support team in the Telethon "ABRE" program, where they installed support materials to collaborate in universal accessibility.
He currently participates as a fellow in the cohort of the Universidad del Desarrollo, which increases his interest in innovation, learning more and becoming a better person, a better friend, a better leader.
Achievements
One of his greatest accomplishments was volunteering for his hometown fire department. In this institution he managed to find his vocation to help people.
Personally, Emilio's greatest achievement was being able to get ahead after having suffered an accident in his childhood.
Social media profiles
https://www.instagram.com/emilio.vera04/
https://www.linkedin.com/in/emilio-vera-leal-576334120/
---
---