Fellow:Demet Tümkaya
Jump to navigation
Jump to search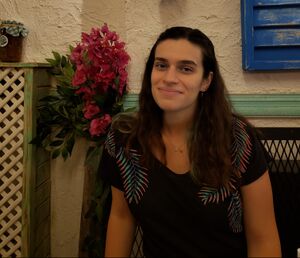 Name

Demet Tümkaya

School (Cohort)

Koç University (2021 cohort)

Majoring in

Chemical and Biological Engineering & Computer Engineering

Country

Turkey

Email
Bio
Hello, my name is Demet! I am a Candidate University Fellow from Koç University and I am studying Chemical & Biological Engineering and Computer Engineering.
I am passionate about learning new things and teach others since I believe sharing and inspiring others will be the best gift for the future. I have been supporting certain programs CS Bridge and CS101: Hello world! that provides an opportunity for high school students to develop their programming skills and learn the academic culture.
I have graduated from the Entrepreneurship and 21st Century Skills Awareness Program last year and I am a team leader there now! All these opportunities that I caught and I will catch, are helping me develop myself, growing my skills in team work, communication, self-confidence and leadership, knowing that I am searching for more and trying to inspire others with my experiences. Talking about inspiration, I have participated in FIRST Robotics Competition in my high school years with my team and this experience introduced me many opportunities including my major. I have a passion for engineering and making others lifes easier and more sustainable. I believe in the give back culture and value of sharing opportunities, now I am volunteering for Fikret Yuksel Foundation who organizes FIRST Robotics Competition in Turkey.
Achievements
Social media profiles
LinkedIn: https://www.linkedin.com/in/demettumkaya/
---
---