Fellow:David Jacob
Jump to navigation
Jump to search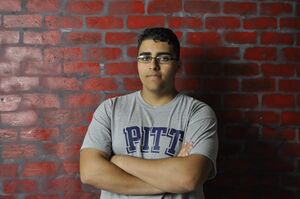 David Jacob is a current sophomore at the University of Pittsburgh who is studying bioengineering with a concentration in medical devices and minors in industrial engineering and chemistry. David hopes to use his education to drive himself towards a more entrepreneurial and innovative way of thinking. He is motivated by the belief that anyone with an idea can make that idea a reality given the right resources and self-confidence in their idea. In his free time, David enjoys providing his own commentary to English Premier League soccer games, competitive couponing, and watching Food Network's Chopped.
When David first started at the University of Pittsburgh he planned on majoring in bioengineering while aiming to go to medical school where he would become an orthopedic surgeon. As a teenager David was plagued with unique knee injuries that left him unable to walk for almost three years between middle and high school. More importantly, when he could walk he was unable to participate in any physical activity and often had a slight limp due to the difficulty bending his right knee. Alas, three doctors, two surgeries, and a great deal of physical therapy later, David is now able to walk, run, and play soccer pain free. It is these injuries that led David to pursue medicine, specifically orthopedics as a profession. More so, he realized that even with his injuries there was always something to help make him feel "normal". Whether it were a wheelchair, crutches, knee braces. All of these assistive technologies allowed David to function similarly to those without his injuries. Medicine almost seemed like a cruel game where patients were a timed puzzle which doctors had to solve. But solving that puzzle and helping a patient feel "normal" provided a satisfaction that David was after.
As a freshman engineer, David went through the gauntlet all other engineers faced which included chemistry, physics, calculus, etc. Outside of the classroom, he participated in an engineering organization known as Engineers for Sustainable Medical Development (ESMD). ESMD aims to pick up where class stops by providing members with practical design experience through the collaboration of students with physicians/clinicians in the Pittsburgh area to design medical devices that have a need in local hospitals. David's first project was designing a carrying case for a surgical nasopharyngeal scope and all of its attachments.
David proceeded to take on a larger role in the organization as the public relations officer. His main duties are to attract students from multiple disciplines and keeping current members informed with the clubs operations which include workshops to develop engineering skills and volunteering opportunities. ESMD opened David's eyes to the field of entrepreneurship and innovation.
David is also currently participating in undergraduate research under the brilliant Dr. Antonio D'Amore. Dr. D'Amore's research delves into the tissue engineering of cardiac patches and valve replacements within the heart using natural materials. Currently, David performs image analysis, immunochemistry analysis, and tests the mechanical stability of samples from various projects in Dr. D'Amore's lab.
Now, David is serving as a resident assistant on campus at the University of Pittsburgh where he hopes to provide his residents with the resources they need to be successful students and pursue their own ambitions.    
Related Links
University_of_Pittsburgh_Student_Priorities
University Innovation Fellows
Spring 2016:
Spring 2015:
David Jacob
Fall 2014:
Fall 2013:
Fall 2012:
---
---