Fellow:Daniel Kleinman
Jump to navigation
Jump to search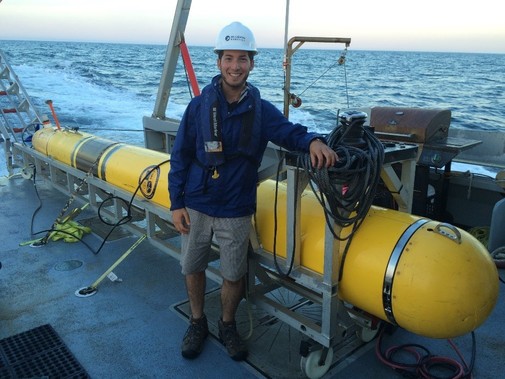 Serving as a UIF Since: Spring 2015
School: University of Florida (graduated 2015)
What he does now: Mechanical Engineer, Leidos based in San Diego
What that means:Dives deep into ocean technology and ways to impact the world's oceans as well as the local community
Contact him about:Marine robotics, carving your own niche, pursuing your passion, overcoming life obstacles, leadership advice, bad puns
Email:dkleingator@gmail.com
Daniel Kleinman is a University Innovation Fellow from the Spring 2015 cohort. While studying mechanical engineering at the University of Florida, Daniel developed a passion for creating technological solutions to improve our understanding of the oceans and their role in our survival for the future. More than 95% of the world's oceans remain unexplored, and there are countless discoveries to be made that can have great impacts on the world, advancing the fields of medicine, energy, and more. Following this interest, Daniel has worked as an engineering assistant at The Woods Hole Oceanographic Institution, served as founder and president of the UF section of the Marine Technology Society (UFMTS), and contributed to multiple underwater vehicle projects at UF, most notably the SubjuGator autonomous underwater vehicle (AUV). Daniel has also gained other technical experience as the project leader for the TailGator tailgating robot and performed research under Dr. Carl Crane.

Daniel has also followed a passion for leadership. In addition to being founder and President of UFMTS, he worked his way up through Gator Robotics as the publicity director, treasurer, and finally president for 2013-2014. He also served on the Student Leadership Advisory Board for the UF Engineering Leadership Institute and as the president of Epsilon Lambda Chi: Engineering Leadership Circle, an honors society bringing together the student leaders in the UF College of Engineering.
Combining his passion for marine technology and leadership, Daniel became a University Innovation Fellow in Spring of 2015. Through his experience as a fellow, he identified obstacles at the programatic level in his university's funding structure for extracurricular programs. This created significant difficulty for students starting and trying to grow new organizations. His desire to better enable students to think entrepreneurially, follow their passions, and start their own organizations as he did through the Marine Technology Society drove him to lay the foundations for a new alumni and corporate partner driven crowdfunding platform for student organizations.
After graduating in May 2015, Daniel began work at Bluefin Robotics in Boston, MA as a Marine Operations Engineer and Test Engineer field testing their unmanned underwater vehicles. He worked hands-on with Bluefin's Unmanned Underwater Vehicles (UUVs), performing vehicle operation and maintenance, mission planning and execution, and launch and recovery of the UUVs. He also became a huge Red Sox fan in his time in Boston.
Daniel moved to San Diego in April of 2017, starting a new position as a Mechanical Engineer at Leidos working for the Navy on marine technology. He has now come around to rooting for the Padres and enjoys hitting the beach, with rare attempts at surfing. Currently, Daniel is also working on starting an accelerator for oceanographic ventures.
Daniel has maintained his involvement with UIF as a mentor since 2015, helping launch cohorts from Kent State University, Louisiana Technical University, University of San Diego, Santa Clara University, and most recently UTEC in Peru.
Daniel also served as a Fab in the 2019 Silicon Valley Meetup. You can view his ignite on learning to better value your time below:
Related Links
Go Gators & Go University Innovation Fellows!
You can reach Daniel via email at: dkleingator@gmail.com
Learn more about what Daniel worked on at UF in the project pitch video below:
Related Links
---
University of Florida Campus Overview
University of Florida Student Priorities
University of Florida Landscape Canvas
University of Florida's other University Innovation Fellow:
---
---