Fellow:Dallaselleman
Jump to navigation
Jump to search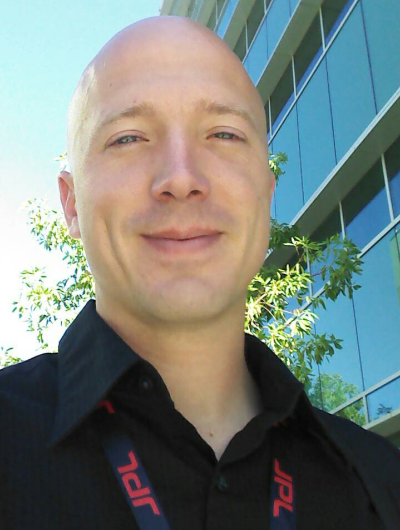 Dallas Elleman is a 35 year old late-but-fierce-blooming Junior studying Engineering Physics with an Electrical Engineering/Robotics concentration and minoring in Innovation & Entrepreneurship at The University of Tulsa in Oklahoma. During a summer 2014 10-week internship at NASA's Jet Propulsion Lab, Dallas helped a multidisciplinary team design microfluidic "Lab On A Chip" tools to detect life on other planets. He is 2-time finalist in the National Science Foundation's Community College Innovation Challenge, and has been an invited panelist at National Science Foundation and National Science Board meetings and events.
After high school Dallas acquired a decade and a half of experience swimming with snakes, drilling steel, clawing through mud, hacking at roots, prying at boulders, crawling across spider-infested fiberglass hellscapes (Oklahoma attics in summer), climbing frozen utility poles, negotiating with the angry, the betrayed and the confused, and generally covered in sweat and dirt as a marine construction and repair crew leader for Rayco Marinas/North American Marine Industries, a water meter maintenance worker for the City of Tulsa, and a field tech (cable guy) for Cox Communications. 
Dallas's career interests include the overlap of machine learning and robotics. Dallas intends to pursue a graduate degree in Robotic Systems Development from Carnegie Mellon University, and later to establish or join an engineering firm in Tulsa, Oklahoma. He cares deeply about problems related to inequality, education, and living up to/extending human lifespan and creative potential. Dallas's company, Flexbee, manufactures customized promotional flying discs.
Dallas is also a proud father of 3 beautiful, awesome girls. Dallas believes that each one of us has enormous power to help change the world in huge and positive ways, and that therefore, each of us should.
Related Links
University Innovation Fellows candidates, Fall 2017
University of Tulsa Links
Oklahoma Young Entrepreneur Awards
Tulsa Links
Oklahoma Innovation Institute </div>
---
---