Fellow:Collin Roberts
Jump to navigation
Jump to search
Collin Roberts is a University Innovation Fellow and a Business Scholar student at the University of Wisconsin - Milwaukee pursuing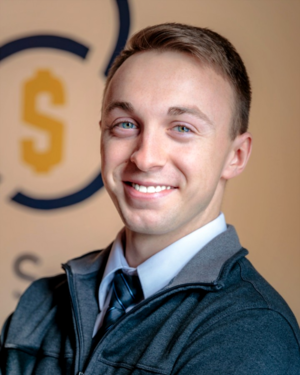 a degree in Finance and a Certificate of Entrepreneurship.
Understanding how experiences of suffering of his loved ones and many others around the world can be greatly reduced or overturned with empathy, and the compassion to act on that empathy, Collin is passionate about growing his and others' empathy to help ignite passion and action in others to create sustainable positive change. Through entrepreneurship and innovation, Collin's mission is to bring passionate people together to create startups and movements that focus on improving human and animal welfare, and the environment to be seeds for lasting change.  
While at UW-Milwaukee, Collin has worked with the Collegiate Entrepreneurs' Organization (CEO), Student Startup Challenge, and many outgoing students and faculty to explore creative solutions, and is now building a startup called Pro Go ("protein on the go"), with the mission to create an easy access point for nutritious and affordable foods for college students, community areas, and food deserts. Pro Go provides plant-based foods, focused on sustainable sources without harming the environment or animals, while providing a healthy and fulfilling source of food for people. Collin is also working on other projects to help improve students' and young business professionals' confidence, as well as a collaboration tool called CollaborACE that aims to help students connect and create change by igniting discussions of problems opportunities into action. 
After working with the Key Club executive board at his high school to help revive his schools' volunteer organization, Collin learned in greater depth the challenges people face in Milwaukee while volunteering with the Hunger Task Force non-profit organization, and further while in college volunteering with Milwaukee Feeding America and Growth International Volunteer Excursion in the Hill Tree-Tribe Villages of Thailand. With these experiences, Collin is determined to continue working with and learning from those who face adversity around the world to learn how he can best help and expose others to do the same.Working to grow these last few years at UWM, competing in entrepreneurial competitions and winning the Business Writing Competition, Business Ethics Scholarship, and placing in the Business Ethics Case Competition, Collin is motivated to finish writing a novel series that exposes young readers to the hardships communities face all over the world, and the acts of kindness taken to overcome such adversities. His goal is to share more opportunities of exposure for people to build empathy and be the voice and action of those who cannot always speak or act on their own. Collin is fundraising a trip to volunteer this summer in Africa and plans to continue his volunteer efforts in his community and abroad to learn as much as he can to create the utmost respectful and impactful literature that confidently shares people's stories. 
This year, Collin is working with fellow college students to create a sustainable program to help ignite passion and opportunity for kids K-12 by brining entrepreneurship and innovation workshops to schools, as well as creating mentorship connections. The UW-Milwaukee UIF team, including Grace Rogers, Elizabeth Gallagher, Caleb Marks, and Collin Roberts, is working on creating ways for students to best utilize campus resources and connect with fellow students and staff to help students grow and get the most out of their college experience at UW-Milwaukee. Collin is specifically focused on creating a resource this year to help students connect their passions and mission with their major, creating a Campus Canvas Guide with programs, clubs, spaces, funding sources, and connections to students, staff, and mentors of all areas of study for collaboration and progression towards achieving students' goals.
Related Links:
University of Wisconsin Milwaukee
University of Wisconsin-Milwaukee Student Priorities
---
---