Fellow:Chethan Kumar R E
Jump to navigation
Jump to search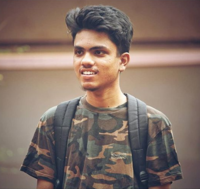 Chethan Kumar is a University Innovation fellow and is pursuing Electronics and Communication engineering in KLS Gogte Institute of Technology, Belagavi, India. He is a Self-motivated, adaptable person with an eye for detail, coping up with Innovation and Entrepreneurship happening in the world. He is known for strong management, communication, and problem-solving skills.
Chethan loves to be amidst his friends brainstorming bizarre things. He comes up with innovative ideas regarding technical stuff like Energy, mobility.etc as well as economic and educational problems. He has adapted himself to design thinking and has a unique approach to every solution. He is a team person and is always engrossed in a conversation. Recently, he has been working towards creating a platform for innovative students and spreading entrepreneurial skills on campus.
Chethan has always been passionate about revolutionizing the way modern education works and he has shown his exclusive interest in making college education more fun. He is a guy whom you can approach at any point of a day to seek ideas. He is a keen organizer and team manager and passionately volunteers techno-social programs in the college. You can find him in college either in a computer lab or playground. His interests also lie in games like Pool, table tennis and computer games.
He has currently dedicated himself to building an application that will provide students with one-touch access to all the I & E resources available in the campus, Ideas competitions, Internship tracker and Patent filing assistance.
Leadership Circle Fall - 2018:
Chethan Kumar R E
Leadership circle - Fall 2017 :
Leadership circle - Fall 2016 :
---
---