Fellow:Chaitanya Krishna Kasaraneni
Jump to navigation
Jump to search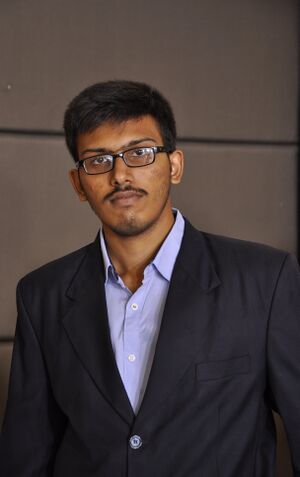 Chaitanya Krishna Kasaraneni, is a final year Computer Science undergraduate student at   K L University, India. He believes Design Thinking is the way forward for Higher Education in the World.
Chaitanya Krishna got introduced to student activities early in his first year and has since worked extensively to organize various co-curricular and extracurricular programs at his University. He currently serves as the Vice President of FOCUS (Forum of Computer Upcoming Scholars), the student body of Computer Science. He is also a founding member of the University Open Source Group and an active developer of K L University Wiki, currently in Beta version. Chaitanya is a passionate follower of Open Source technologies and has introduced various FOSS technologies like Git, GitHub, MediaWiki to the society by organizing an series of workshops and technical talks. He is the Incharge for MediaWiki Club, India KL University Chapter,a technical club that aims to bridge the technological gap that exists in the Wikipedia Contributor base of India.
Chaitanya is a part of the Winning Team (Communications Vertical) at the UC Berkeley Open Innovation Hackathon India in August 2017. He is interested in transforming the Education curriculum of the undergraduates, especially freshmen so as to keep up with the rapid pace of the current world and make a mark for themselves.
Find more at LinkedIn or Timeline.
RELATED LINKS
K L University University Innovation Fellows Fall 2017:
'Chaitanya Krishna Kasaraneni'

K L University Campus Overview

K L University Student Priorities

K L University Fall 2017 Pitch Video
K L University Fall 2017 Landscape Canvas

---
---