Fellow:Cate Troost
Jump to navigation
Jump to search
Cate Troost is a 2019 University Innovation Fellow at Western Michigan University in Kalamazoo, Michigan. Currently, Cate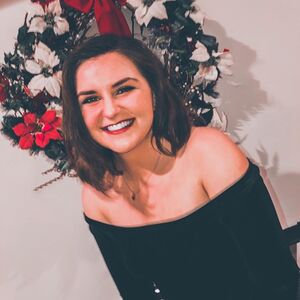 is a double major in both Business Management and Creative Writings with a minor in French Language. Cate grew up in the Detroit area. In high school, she played hockey, soccer and became captain of her cross country team. Now at Western, Cate continues to run, as well as paint, write and tell dad jokes in her spare time. She can quote the 1994 neo-noire,
The Usual Suspect
word for word.  Her desert island read is Wuthering Heights and her greatest fear is slipping in a bathtub.  
In her three years at Western, Cate has become very involved in the community. She has held two positions on her sorority, Alpha Chi Omega's, Executive board. One being chapter historian and the other being Vice President of Philanthropy, where she raised over $3,500 for domestic violence awareness over two semesters. Cate is also an active member of FOCUS Kalamazoo, a group centered around giving back to the surrounding neighborhoods through volunteer work. Currently, Cate is working on publishing her poetry and short fiction with her creative writing professor. She is hoping to expand her horizons as a University Innovation Fellow, focused on connecting even more with her campus. Cate is hoping to bettering her campus through increased access to resources and collaboration with peers.
Related Links
Western_Michigan_University_Student_Priorities
UIF Cohort: Aisha_Thaj and Caylee_Prater
---
---