Fellow:Canberk Bal
Jump to navigation
Jump to search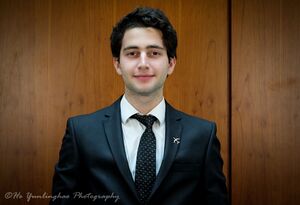 Canberk Bal is currently an Electrical & Computer engineering student in Dalhousie University, Canada. He was born in Izmir, Turkey. During his high school years, Canberk was awarded CAD$85,000 worth major scholarship to study International Baccalaureate in Eastern Mediterranean International School, Ramat Hasharon, Israel. He was taking part in such student clubs as FRC, MUN, coding club and also leading the school rock band as a drummer. He speaks English and Turkish fluently by also having some knowledge on German and Hebrew.
Moreover, entrepreneurship and innovation have always been his tremendous passion to follow through and use it as a way to engage other people. In this regard, he started to get involved in a program called "Entrepreneurship and Idea Generation" in Israel. Afterwards, his team and Canberk decided to attend for NASA&IBM International space apps hackathon. They were awarded "Most Innovative Team" award and Canberk also received "Galactic Problem Solver" certification for his contributions on the project.
In Dalhousie University, Canberk became the Engineering Faculty Student Representative in his first year. Moreover, he was volunteering in many events of an on campus Norman Newman Entrepreneurship Centre for various events. Such as, Canada's Business Model Competition as competition services coordinator. Canberk likes to challange himself by attending hackathons, competitions and conferences happenning on and off campus. He is currently working on a startup called Innovative Ocean Technologies to develop a product that can generate electricity from wave motion as an offshore station in the oceans.
Fall 2017:
Canberk Bal
Spring 2016:
Fall 2015:
---
---