Fellow:Benita Joshua
Jump to navigation
Jump to search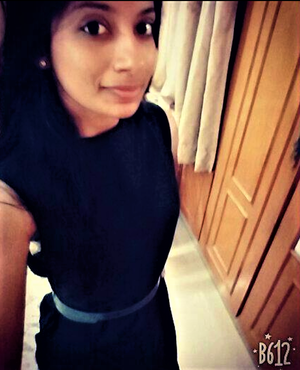 Benita Joshua is an undergraduate student pursuing Electronics and Communication Engineering at Vignan's Institute of Information Technology. Benita is originally from Kerala, the southern state of India, but has lived in different parts of the country and currently is a resident of Visakhapatnam, AP, India. She was introduced to University Innovation Fellows in the third year of her college through Andhra Pradesh State Skill Development Corporation (APSSDC).
In her college she has been acting as Techno Journalist for College daily and bi - monthly Newsletter and she has been interested to upgrade and update her knowledge by attending and coordinating workshops and seminars. She is creative and innovative in thinking. She is smart, dedicated and dynamic. She has good Organizing and Communication Skills. She is BEC Certified student with a grade of B2 and also recipient of gold medal in science Olympiad . She has a quality of helping and motivating the peers which enhances her skill of respecting others. She has amazing leadership skills and can inspire and motivate anyone, especially her peers.  She is down to earth and very good at working in a team. She is very empathetic, patient and broad minded.
From her school days, disappointed with the status quo of the education system, has made it her goal to contribute in redesigning the higher education. And UIF has proved to be a perfect platform to do so. She spends her spare time reading books. In her campus, she is interested in developing an Innovation & Entrepreneurship culture along with skill development. Being a lover of nature and believer of sustainable development, she plans on developing a green campus.
Related Links
Vignan's Institute of Information Technology
Vignan's Institute of Information Technology: Landscape Canvas Fall 2018:
https://docs.google.com/spreadsheets/d/1TCUJbd4vGOzpDr8t7cBbeQ3oI-G9AmxLwKTzhp1NhDI/edit#gid=0
Vignan's Institute of Information Technology Student Priorities
University Innovation Fellows
Fall 2018

Benita Joshua
<a href="Srinika%20Gottumukkala">Srinika Gottumukkala</a>
<a href="Yasaswini%20Vedula">Yasaswini Vedula</a>
<a href="User%3AKrishna%20vardhan">Krishna Vardhan</a>
---
---