Fellow:Basil Merk
Jump to navigation
Jump to search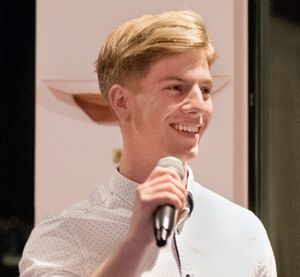 Name

Basil Merk

School (Cohort)

Menlo College (2020 cohort)

Majoring in

International Management and Psychology

Country

Germany

Email
Bio
Being an undergraduate student at Menlo College, Basil Merk is pursuing his Bachelor's degree in International Management and Psychology. With a passion for business, psychology, and public speaking, he is developing the skillset that prepares him for the career as a business and life coach. His goal to fully establish, change and develop education globally is what drives and motivates him to start and support innovative projects.
Basil served as Freshman Class President in his first year at Menlo and has recently been elected to be one of the leaders of Oaks Innovation Club, the biggest entrepreneurship club on campus. He loves to use his passion for public speaking to pitch new ideas that make a positive impact on society as well as to motivate and empower other people. Basil pitched a Startup idea that supports homeless people in San Francisco at a Startup Weekend competition, in which the judges gave his team the 1st place award. After being awarded at another Startup Weekend, Basil is currently one of the lead organizers of SW Silicon Valley Womxn, organizing an event that has the purpose to promote gender equality in the entrepreneurial environment.
His desire to help others to improve and change their habits inspires Basil to establish new initiatives - such as the #28daychallenge - and to live a life with purpose.
Achievements
Richard O'Brien Award (Awarded to students who best exemplify the true spirit of the Menlo College Campus through all-around excellence, including outstanding academic performance, being a classroom leader, and an active contributor to the campus learning community)
3.89 GPA (Dean's List on all terms)
Freshman Class President
Started an online blog that has more than 3000 visitors a month
Won 1st place at a Techstars Startup Competition, created a Startup in 54 hours and delivered final pitch to judges and investors
Startup Weekend Organizer
Oaks Innovation club leader/catalyst
UIF Fellow Candidate ;)
Social media profiles
https://www.linkedin.com/in/basilmerk/
https://www.facebook.com/basil.merk
Online Portfolio: basilmerk.com
---
---