Fellow:Ayodeji Afolabi
Jump to navigation
Jump to search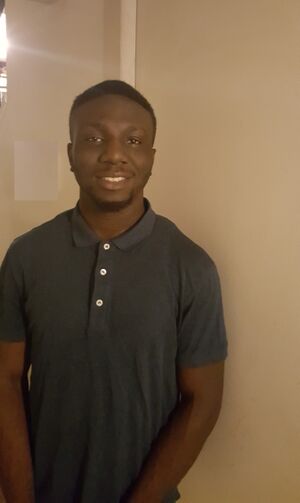 Ayodeji Afolabi is a University Innovation Fellow originally from Lagos, Nigeria and has lived and schooled in Baltimore, Maryland since he was 9. He is an Electrical Engineering major and a Philosophy minor at Morgan State University. His focus within the Electrical Engineering program is power generation and distribution of electricity using renewable energy sources such as hydroelectricity, solar power and wind power.
Much of Ayodeji's involvement on campus is with the Center of Microwave, Satellite, and RF Engineering (COMSARE) research group and program at Morgan State under the director and professor, Dr. Michel Reece. As a research trainee, he is exposed to and being trained in research areas such as telecommunications, device characterization and modeling, circuit design as well as analysis and more. Additionally, Ayodeji is also a part of research team in the physics department with assignments focusing in Electrochemical growth of nanowires, the characterizations of the wires as well as analysis. Other campus involvement includes University innovation fellows (UIF) IEEE Morgan State chapter and Campus Bible studies.
Ayodeji is very passionate about his faith, helping people and being a positive influence in the lives of others. He plans on Joining the Air Force Reserve after graduating and aims to using the skills and knowledge from his research experiences, undergraduate degree and Air Force training to help underprivileged neighborhoods and cities in the U.S. as well as impoverished countries in building a power grid using strictly renewable energy sources.
---
---