Fellow:Austin Nordyke
Jump to navigation
Jump to search
Serving as UIF Since: Spring 2018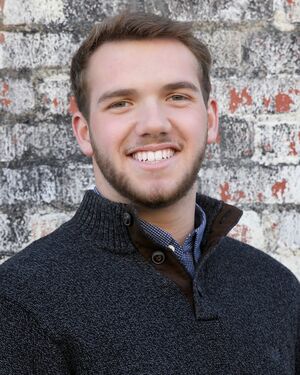 School: Wichita State University - Master of Innovation Design | Design Thinking
What he does now: Executive Business Administrator, Wichita State University Industry and Defense Programs, NIAR
Email: austinnordyke1@gmail.com

Austin Nordyke of Hugoton, Kansas is a University Innovation Fellow from the Spring 2018 cohort. He graduated from Wichita State University with a B.S. in Engineering Technology Management with minors in General Business and Management in May of 2020. Nordyke is currently receiving his Masters of Innovation Design from Wichita State University. During the Summer of 2018, Nordyke studied abroad at the ESC Pau Business School in Pau, France. There he took courses in International Business and Entrepreneurship. He also attended a summer school festival at the University of Twente in Enschede, The Netherlands where he took an additional Entrepreneurship course and attended the University of Twente Meetup.
On campus, Nordyke has hosted multiple Design Thinking Workshops for various groups and organizations. He has also hosted a workshop for middle school and high school teachers in Rural Kansas. Nordyke helped facilitate WUIFx, an outreach program to introduce high school students to the design thinking mindset. WUIFx was prototyped at a local high school in Wichita, Kansas. 
Nordyke is passionate about exploring new innovation and design creation and was the winner of the Inaugural Koch Innovation Challenge. Working in the Innovation Challenge, Nordyke discovered that he also wanted to share design thinking with other students and became a mentor of the Koch Innovation Challenge. He has participated in multiple other innovation design challenge and won 3rd place at Invent For The Planet held at WSU with his team's ReSolar Charger. Nordyke then went on to become a co-organizer for Invent for the Planet the two previous years bringing together the members of the Wichita State University Fellows and the members of his masters program.
On campus, Nordyke was involved in many engineering organizations such as the Engineering Living Learning Community and Engineering Council. He was also very involved with Student Ambassador Society and helped to share his experiences with prospective Shockers. Recently, Nordyke become took an active role in the Wichita State Placemaking Committee and has had a direct impact in helping to make Wichita State a more welcoming environment. Nordyke helped bring hammocks to campus and will be expanding the hammock effort this coming semester. This is great for Austin as he is also passionate about meeting and connecting with new people.
Nordyke worked on campus as a Graduate Student Assistant for the universities Associate Vice President for Applied Learning and Community Engagement. He worked on many projects including business development for the newly established retail locations at Wichita State, Braeburn Square. Nordyke also had the opportunity to help start the Molecular Diagnostics Laboratory to help provide highly accurate, equatable and FREE access to the Wichita community and took on many roles including creating their website, providing marketing and branding support, customer service support, data entry, tracing, and logistics, as well as many other activities.
In April of 2021 after working at the Molecular Diagnostics Laboratory, Austin accepted a position as the Executive Business Administrator for the Senior Vice President of Industry and Defense Programs and Executive Director of NIAR at Wichita State University. He remains involved in many programs helping to promote the mission and vision of Wichita State University.
Outside of campus, Nordyke enjoys spending time with friends, working on various projects creating, building, or renovating things, traveling, and spending time with his pup, Charlie. (follow her in Instragram @itscharlie.ks)
Go Shocks!

Connect on:
Related Links
Wichita State University Student Priorities
Categories: Student Contributors
---
---