Fellow:Asher John Sathya
Jump to navigation
Jump to search
Serving as a UIF Since: Fall 2016
School: CMR Institute of Technology, Bengaluru
What he does now: Works with Enterprise Tech, Urban Tech & Healthcare startups at The CoWrks Foundry - an early stage startup accelerator
What that means: Helping startups grow their business, enable access to mentors & industry experts, conduct events, help create startup pitches and raise funds.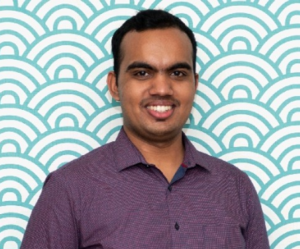 Contact him about: Anything startups, Facilitating workshops, collaboration, raising funding for change programs, commercial aviation, football (the one where you actually use your feet!) and coffee!
Email: ashersathya@gmail.com
Asher is a University Innovation Fellow and a graduate of Mechanical Engineering from CMR Institute of Technology, Bengaluru, India. He currently works as an Associate at The CoWrks Foundry - a startup accelerator, where he helps early stage B2B startups in India and USA scale their business. He works with a portfolio of startups in Enterprise Tech, Urban Tech (with Columbia University & Brown University) and Healthcare (with Yale Institute of Global Health).
Asher's interest with the startup ecosystem started while in college, where he worked actively to foster a culture of innovation and collaboration, before ultimately helping set up the 'Innovation & Entrepreneurship Center.' The center continues to be an active hub for innovation, research and Social Entrepreneurship.
As a University Innovation Fellow, Asher conducted regular workshops in Design Thinking both in his campus and at events such as Google Developer Days Asia, Developer Student Club Summit etc. He continues to conduct these workshops for the startup founders he interacts with. Asher was trained as a University Innovation Fellow in Fall 2016, and attended the Silicon Valley meetup in March 2016. He has helped host the March 2018 Silicon Valley meetup and the May 2018 Eastern Hemisphere Meetup as a 'FAB'.
Asher has a wide range of professional interests. He has held prestigious roles such as 'School Prefect' and 'Treasurer' for the 'Society of Mechanical Engineers' at CMRIT. In his free time, he is actively sampling new types of coffee and experimenting with brewing methods, besides reading or watching football.
Related links:
CMR Institute of Technology Student Priorities
UIF Fellows from CMRIT:
---
---