Fellow:Arjun Chakravarthi Pogaku
Jump to navigation
Jump to search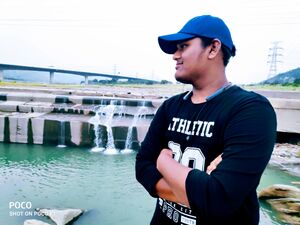 Arjun Chakravarthi Pogaku is a Master's graduate from Asia University Taiwan and alumni of Madanapalle Institute of technology and science. He became a part of UIF Cohort in Spring 2018.
At the beginning, Arjun was an introvert. But things began to change when he met few people who inspired him to take his journey globally. With a lot of hard work, Arjun completed his training for his fellowship. He made memorable changes at his home university with the help of his faculty champion and his student cohort.
His team was able to bring exposure to many students in the college about the learnings regarding the opportunities around the globe. Conducted Design Thinking workshops for almost 300 students in the span of 6 months. They also trained another group of students for the next fellowship program. They were able to introduce Design thinking into the university curriculum. They created a special UIF blog for ourselves to share the fellows latest achievements in the college. And also collaborated with the innovation cell to encourage the talented students with the technological projects.
Meanwhile, Arjun has also started to spread his wings to the outer world. He became a part of the Asia Pacific Innovation Academy as a Student Entrepreneur in Shenzhen, China. After finishing his program at Shenzhen, he started to work as a Virtual Intern as Blog Editor at Shenzhen Blog, China. This experience has improved his language skills and he was able to crack IELTS with a score of 7.5 in 2018.
In early 2019, he was selected as a student intern for a research project at Asia University for a tenure of 2 months. His internship helped him to attain a masters degree program with a scholarship. At present he published a research paper on Reconfigurable Intelligent Surfaces, an young research topic in the field of Wireless Communications. He will be graduating in Mid 2021. He has plans to continue his research later on.