Fellow:Ariel Pershman
Jump to navigation
Jump to search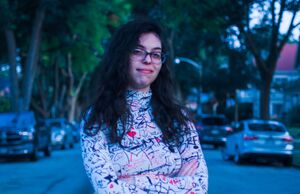 Name

Ariel Pershman

School (Cohort)

University of Wisconsin Milwaukee (2021 cohort)

Majoring in

Digital Studio Practice

Country

United States of America

Email
Bio
Ariel is a Digital Studio Practice major at the University of Wisconsin - Milwaukee (UWM). This program contains coursework in digital arts, 3D modeling/rendering, motion graphics, VR/AR/XR, digital fabrication, rapid prototyping, entrepreneurship, etc. In addition to her core classwork she is passionate about the field of disability design and takes elective classes in Occupational Technology and Accessible Design. She aspires to work in the industrial design field as a designer for disabled products, and after graduation hopes to be considered for the masters program in Disability, Design, and Innovation at the University College of London.
At UWM she is heavily involved in the UWM Startup Challenge organization as an entrepreneur with her company Mira Eyewear, a startup that designs and develops eyewear solutions for people who suffer with pain from light sensitivity. As a chronic migraine sufferer, she saw an untapped gap in the market for tinted eyewear when she became frustrated at the lack of fashionable and complete options. Mira Eyewear is currently in the process of filing as an LLC in the state of Wisconsin. To find out more visit the website here.
As a disabled student and activist, Ariel is a co-leader/social media manager for the disability rights student group D.R.E.A.M at UWM. As a leader she publicly advocates for disability rights on campus, curates content on Instagram and Facebook, and designs graphics for the organization. Just recently she produced content for the official UW-Milwaukee social media accounts in celebration of Disability Pride Month and the 31st Anniversary of the Americans with Disabilities Act.
When she isn't conquering the world, Ariel enjoys playing video games, indoor rock-climbing, ethnic food, art galleries, watching animated shorts, writing poetry, musicals, and giving lots of attention to her beautiful tabby cat Iris.
Achievements
Lubar Entrepreneurship Center Featured Student Entrepreneur of the Month - July 2021
UWM Innovator's Expo 2021 - People's Choice Award Recipient - Mira Eyewear
Patricia H. Weisberg Innovation Scholarship Recipient
UWM Wisconsin Big Idea Tournament - 2nd Place Winner 2021
Selected for 2021 48th Annual Juried Show Exhibition - UWM
Published in Issue #19/Liminality Poetry
Selected for 2018 Juried Exhibition - Judged by Alberto Aguilar SAIC
Social media profiles
---
---