Fellow:Aniket Agrawal
Jump to navigation
Jump to search
<parsererror style="display: block; white-space: pre; border: 2px solid #c77; padding: 0 1em 0 1em; margin: 1em; background-color: #fdd; color: black">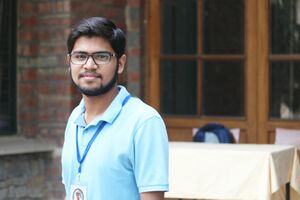 Aniket Agrawal is a University Innovation Fellow and a mechanical engineering student from Ajay Kumar Garg Engineering College, Ghaziabad, Uttar Pradesh.  Aniket originally belongs to Aligarh district of Uttar Pradesh. He completed his 15 years of schooling from Brilliant Public School, Aligarh. He always has the curiosity about machines and how things actually work around him, so he took Mechanical Engineering. In his college, he is a part of an elite group of 20 students under the SPEED (Student Platform for Engineering Excellence Development) program. These students are provided with the title of Technical Associate by the college. In the college, through SPEED program he is exposed to UIF program.
During his engineering,  Aniket is acquiring multiple skills like he is certified in SMAW, GMAW, GTAW welding processes by Indian Institute of Welding, Basic level industrial robotic programming by AKGEC KUKA, pneumatics and hydraulic drives by AKGEC BOSCH.
Aniket has done a major project SUPRA 2017, a student formula car racing event organized by SAE INDIA. He also represented his district in State Level Badminton Tournaments and also the part of his college badminton team.
---
---