Fellow:Alyssa Norris
Jump to navigation
Jump to search
Alyssa Norris is a University Innovation Fellow and an undergraduate student studying civil and environmental engineering at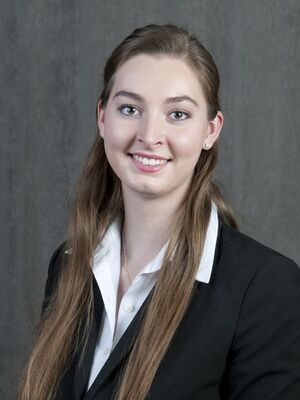 Washington State University (WSU).  She is interested in renewable energy and
policy, but she loves math and science which is why she is pursuing an engineering degree.  She is originally from North Pole, Alaska and had lived there most of her life before moving to Washington to attend college.  She was first introduced to the University Innovation Fellows when she was a freshman working as a volunteer at her university's TEDx event.
During her college career at Washington State University Alyssa has been a very involved and active student, being president of her university's chapter of the Society of Women Engineers (SWE), president of her university's Entrepreneurship Club, an All-Campus Senator for student government, a member of the concrete canoe team for the American Society of Civil Engineers (ASCE), and an Honors College facilitator.  In her sparetimeshe enjoys teaching local youth about the fun of science as a volunteer teacher as part of a NASA Space-Science program, and hiking, fishing, and skiing.

Since Alyssa was young she has been interested in innovation and entrepreneurship.  Growing up in a small town never held her back, and she sought out every opportunity for travel and exposure to new places and things.  In 2014 she was awarded an Undergraduate Fulbright Award which allowed her to study abroad in the United Kingdom learning about the Transatlantic trade, and leadership styles across the ages.  The next year she was selected as a Mount Vernon Leadership Fellow and was able to spend a summer in Washington, DC working on projects around rural renewable energy policy.  It was here that she learned the importance of community and social entrepreneurship.  On campus, and in her daily life she is interested in cross-discipline collaboration and learning.    
Related Links
University Innovation Fellow Spring 2013: Viviana Tran
University Innovation Fellow Spring 2014: Amber Graviet
University Innovation Fellows Spring 2016: Mitchell Scott, Ryan Pitzer, Victor Charoonsophonsak
University Innovation Fellows Spring 2017: Kevin Wolfrom, Kiera Rust, Alyssa Norris, Bardya Banihashemi https://www.youtube.com/watch?v=IKZtC5XPAvw&feature=em-upload_owner
---
---