Fellow:Alicen Long
Jump to navigation
Jump to search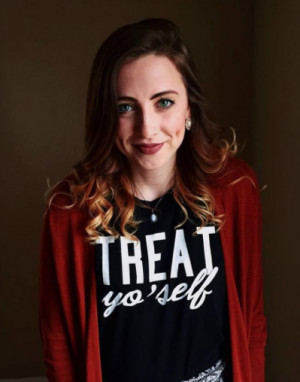 Alicen Long is a University Innovation Fellow and an undergraduate studying Marketing and Psychology at Tennessee Technological University (TTU). Alicen moved from Pennsylvania to Tennessee halfway through her junior year of high school. Moving to Tennessee opened up a lot of opportunities for her- one being a great value on higher education. She has been involved in many organizations and on-campus activities throughout her college career. Alicen currently is serving as head seat of the Business College for the Student Government Association, is an active member of Alpha Delta Pi, a member of the Marketing Club, and works as an intern on campus for a psychology NSF project. Alicen also works at Electronic Express; to say she keeps herself busy is an understatement.
 
Alicen has grown to become very passionate about the field of Psychology over the past two years. She started out college as a Basic Business major. Her selection can be attributed to having taken a few business classes in high school, been a member of FBLA (mainly because her friends were too), both her parents had studied business, and it seemed like a sensible degree to earn when she didn't feel she was necessarily "cut out for anything in particular". Then, only picked Marketing because she was good at sales and found marketing to be interesting. While continuing her education, Alicen learned the importance of marketing and its position as the lifeline of every company, there she felt a sense of job security. But still, it was as if something was missing. A few years into college as graduation was looming and the job searching process began, she came to the quick realization that interest did not equal passion. She decided it was time to take a hard look at her future while she was still a consumer in the world of academia and could make a change more easily than post graduation. Alicen decided she wanted to pursue a career that would supply her not only a salary but a sense of purpose as well. Always having been squeamish and knowing she didn't want to spend most of her life arguing in court nursing and becoming a lawyer were quickly ruled out. Next she started to consider psychology- unsure of why she had never had in the past. Alicen has always been curious about what people are thinking, feeling, the whys and hows behind every action- even minor actions have always intrigued her and transcended her into deep thought along with possessing a high level of introspection. 
Alicen swiftly sought out ways to get involved with field experience to ensure she would enjoy this drastic change she was planning to make that would add two years onto her undergraduate collegiate path paired with doctoral work. Soon Alicen acquired an internship at a local mental health clinic shadowing a counselor. At the mental health clinic Alicen worked with a women's group that met three times a week for intensive outpatient program (IOP) that was comprised of mothers recovering from addiction. This was an extremely rewarding experience in which Alicen always looked forward to each week. Here she was able to develop meaningful and educational relationships with patients and staff. In the afternoons at the clinic, she would shadow her counselor's psychotherapy sessions. Alicen was very lucky to be placed with the counselor who welcomed her input graciously and even asked Alicen to plan activities for the IOP group. This internship was incredible for Alicen and truly solidified a new stream of goals and path. Alicen had found her passion, something she never thought she would encompass in relation to a career. She spends quite a bit of her free time listening to TED Talks, NPR, reading books and articles related to the field of psychology. Working at an electronic store also keeps her up-to-date with technology and is always interested in what's coming next. 
Alicen had heard about University Innovation Fellows (UIF) through a acquaintance from high school the week before applications were to be turned it and felt compelled to apply. After a unique application process, she was accepted. Thus began Alicen's introduction to the innovation and entrepreneurial community within TTU's campus. Prior to UIF training she had only known about one or two I&E resources available to students- and only knew of those on a surface level. Through the valuable training offered by UIF and Stanford Alicen gained a new appreciation for the possibilities given to students. UIF training also was able to supply her with a new way of viewing aspects of life and unique perspectives.
Alicen began to notice that many other psychology students did not know or seem to care about the I&E resources TTU extends to their students. She then began thinking about ways in which she could help bridge this gap. Two current campus conditions her and other UIFs-in-training had identified needing improvement in an early UIF session was the break down of academic siloing in relation to I&E along with connecting passion and education to career through innovation and entrepreneurship. So with those themes in mind, Alicen has chosen to make it her initiative to connect psychology students to the I&E community in as many ways as she can starting with- focus groups for psychology students and faculty, virtual reality workshops, and outreaching to practitioners in the psychology field to find ways they feel I&E could be utilized within their field. Virtual Reality therapy is quickly gaining ground, recognized by American Psychology Association for it enhancements of quality in desensitization/exposure therapy. Medical centers offering virtual reality therapy have received number one patient choice awards and are able to help an array of challenges patients face including test-taking anxiety, fear of flying, ADHD, anxiety disorders, and even panic attacks. Alicen spoke with several students about this relatively new therapeutic method to found that not one student she talked to had heard of it, but all were quite interested. Alicen plans to create opportunities for psychology students to interact with virtual reality, taking the first step in bridging the gap. She feels that this step will inspire students to become more involved within the I&E community TTU sustains and will help break down the stigma of "I&E is only for Business and Engineering Students".
Related Links
Tennessee Technological University
Tennessee Technological University Student Priorities

University Innovation Fellows
Fall 2016:
Alicen Long
Spring 2016:
Spring 2015:
Spring 2014:
---
---