Fellow:Alexandra V. Seda
Jump to navigation
Jump to search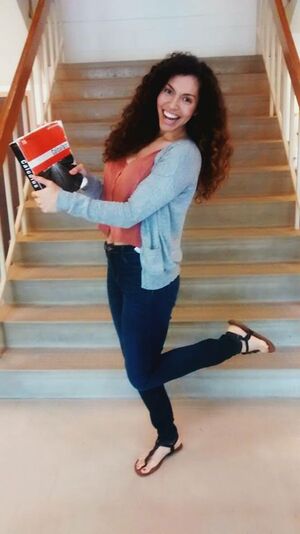 Ohio Northern University
UIF Spring 2015  
She is an electrical engineering student at Ohio Northern University that has participated in NEWB (Northern Engineers without Borders) and EPICS (Engineering Projects in Community Service) where she gained some experience in international projects. The two countries she participated in projects with were the Dominican Republic and Haiti. She enjoys spending her time participating in community service oriented opportunities that help empower the people being served, as well as, helping her gain a fresh perspective on life. Her interests include social entrepreneurship, local & international service, design thinking, brainstorming, and anything that calls for creativity. Her faith in Christ is what inspires her to live each day as a gift and serve others without hesitation. She greatly values education, and has taken the mantra that learning is a lifelong process that will involve countless people and amazing stories along the way. 
After the meetup, she was inspired to start enacting transformational change on her campus. Her initial focus was to establish a Grand Challenge Scholars Chapter since the freshman introductory engineering classes went through an intensive process in designing a poverty alleviation device. However, she realized she needed to "pivot" when reviewing the stakeholder interview responses of faculty and students.
The UIF program was hosting a Big Beacon Twitter Chat and it was there that she gained valuable insight into how to spark change and help others uncover their creative potential. Sean Maroni of Betaversity suggested she follow this word map: environmentàcultureàmindsetàoutcomes. And so while chatting with Dr. Boulanger she made a 30 second pitch on allowing the students to recreate their environment as a unique way to experience design. Dr. Boulanger loved the idea and went to get approval from the dean.
Alexandra started recruiting friends and classmates. She combined forces with Adam Berry who also had a desire to transform the environment. They began hosting meetings that went from a handful of students to 12-15 students. Nathan Craft and Alex McMullen seamlessly joined in as leaders and helped make the process of change that much easier.
After the students created and voted upon a name: ION (Innovators of Ohio Northern), the students were split into teams. The project space was the freshman design studio where only a few engineering students studied, this space was the only lounge space for engineering students in the building. The leaders and Alexandra hosted an ideation session that overviewed the components of design thinking through roleplaying of the space. Students were able to observe and record observations about student needs in the space and the layout themes of rest, study, and collaboration. The teams sketched, and prototyped with Expo markers, Play-Doh, and Legos.
The student teams had two weeks to finalize a design of the design studio that hit each of the necessary themes and present the design to the dean. The final design encompassed aspects of each teams' design. The build took place during Easter weekend of 2015 and the recreated space was a success. 
 A second project took place with a rotation of new project leaders. The focus of the project was the hallways. The project definitely had an impact on the students with the addition of a hallway whiteboard where students could write updates about current or future events, a splash of color to the formerly blank alcoves, and a reorganization of the scattered school pictures.
While the project was finished, a key element missing was the ideation session and team comradery. ION learned that anytime design or recreation of objects or spaces take place, there has to be a session where design thinking is applied and the teams create prototypes with the discoveries made.
Currently, Adam Berry and Alexandra will be hosting a third event in the first floor of the university library. Heterick Library will be completely renovated in the summer of 2016. The director of the library and library committee allowed them to host an ideation session on individual and group collaboration spaces in order to understand exactly what the students need in the space. More details will be coming soon.
If anyone would like information on how to gather students for projects, ideation sessions, and more, please contact Alexandra via email and she would be more than happy to collaborate or brainstorm with anyone to help!
Email: a-seda@onu.edu
Related Links
Ohio Northern University Student Priorities
University Innovation Fellows
Spring 2016:
Spring 2015:
My OpEd (https://docs.google.com/document/d/1NlE-3nyjqOinUhdC48IfguPc5Dpj2cIAzzyl81i5OvM/pub?embedded=true)
---
---