Fellow:Alexander Kamgar
Jump to navigation
Jump to search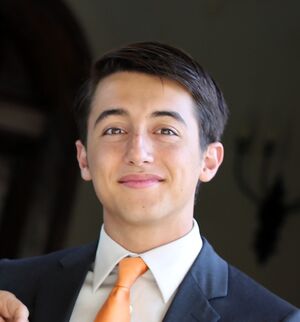 Alexander Kamgar is a third year Computer Science major at the University of California, Berkeley. He grew up in southern Orange County with a love for surfing and the beach, and a dream to be accepted to his dream school of UC Berkeley. He came into college undeclared with only of an idea of what he was going to major in, but now he is a fully declared Computer Science major.
Alexander has a heavy emphasis in teaching others in his local community, especially with Computer Science. He teaches local underprivileged high schools and middle schools in the area programming languages, programming concepts, and overall what the field is like in college and afterwards. Now he focuses on being a leader in his own community, being apart of the University Innovation Fellowship for Berkeley as well as cofounding and becoming president of The Invention Corps of Berkeley. This new organization brings together talented multidisciplinary Berkeley students to utilize design thinking and collaborate with professors and PhD students to provide solutions to world problems focusing in Poverty, Society, Health, and the Environment.
Alexander's goal is to be the very best version of someone they can be, and to have a positive and meaningful impact in the world. He hopes to do this through his organization's projects and through his fellowship with University Innovation Fellows.
Related Links
University of California, Berkeley Campus Overview
University of California, Berkeley Student Priorities
University Innovation Fellows
Spring 2017
Alexander Kamgar
Fall 2013
Adam Eastman
---
---