Fellow:Aleksandar Antonov
Jump to navigation
Jump to search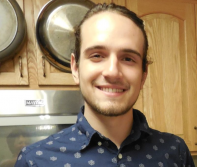 Aleksandar Antonov is a University Innovation Fellow In-Training, beginning his journey with the program with the Fall 2015 cohort. He is a third-year (junior) computer student at Bucknell University majoring in Computer Science. Born in Bulgaria the son of two engineers, and having moved to the United States at an early age, he has for most of his life had a vested interest in exploring innovation in the context of a community of learners, leaders, and of course, innovators. Inherent to his vision of innovation is the concept of a Family of Innovators, a term gathering his belief that genuine innovation must be communal and collaborative in order to be effective and relevant, creating ripples of change. Deeply curious and passionate in engaging with the world honestly, he has since his arrival at college collaborated with humanitarian engineers and scientific humanitarians in a variety of ways to develop unique and relevant means by which to learn from and improve his community. It is in the synthesis between different minds that he has seen the most far-reaching and impactful innovation among his peers. Innovation cannot take flame in a vacuum, it must be in it's onset comprised of, reflective, and representative of the communities that it seeks to reach. For example, a program to educate and empower underprivileged youth in the field of computer science cannot take hold unless painted with a brush that shares qualities with their own lived experience. 
On campus, much of the work he does is closely associated with learning from the stories of his peers and finding ways to allow those stories to guide them to success and innovation within their fields of interest. He is a co-director for Common Ground(http://bucknell.edu/commonground), a diversity immersion retreat over five days that aims to inform and inspire college-aged students on how the identities they and their peers hold shape their interactions with the world. As a residential adviser for the society and technology residential college, and now Bucknell's LGBTQ affinity house, he enjoys finding means by which to allow the talents and accomplishments of the student's he lives among to shine through and receive recognition. Innovation has shown to easily find foothold when a community is supported by with ample resources and named role models, two commodities that are often made hard to come by.  Through this work and as an innovator, he follows the notion that innovation must begin from within before taking on the world, first to uplift all members of the community so that their needs of resource and dignity are met, and then to rise the community to greater heights. In his leisure time, Aleksandar enjoys reading books from a variety of genres, hopping on his decade-old mountain bike to explore the natural surroundings in beautiful Lewisburg, and toying around with new languages, of the computer variety or otherwise.

Looking toward the future, he hopes to utilize his knowledge of computer science to create popular story-sharing platforms, to work with animation for social justice causes, and to build a home with a big garden of his own.
Related Links
Aleksandar Antonov