Fellow:Ajay Kumar
Jump to navigation
Jump to search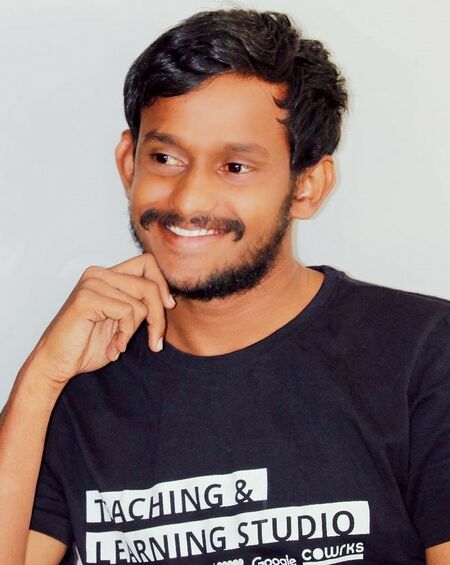 Ajay Kumar Bhupatiraju is a University Innovation Fellow from Sagi Ramakrishnam raju Engineering College,Bhimavaram.He is currently working as a Business Analyst at L4G-Edutech startup Digitalising Higher Education institutions in India.He's worked as a Quality Analyst in Tech Mahindra,Hyderabad earlier. He holds a Bachelor in Electronics and Communication Engineering along with a Diploma in Venture Development and Entreprenuership from International Institute for Entreprenuership Development(i2e) North eastern University ,boston.He's been inducted as a UIFellow in Spring 2017 cohort and attended Siliconvalley meet-up in california,USA.His lean start-up idea 'Spiderweb' has been launched on the hands of Cheif Minister of Andhra pradesh on April 27,2017.he attended Eastern Hemisphere meet-up in Cowrks and delivered his first ignite in bangalore.  
Ajay worked as an Excecutive Body Member of Indian Society For Technical  Education(ISTE) and actively took part in organizing events in his college.After the meet-up he started teaching design thinking to undergraduates of his college and  incubated the lean start-up alongside working as a Student networking lead for Andhra Pradesh State Skill Development Corporation(APSSDC).He took part in promoting several government initiatives  in engineering colleges.He been invited to host design thinking workshops across Andhrapradesh in collaboration with Google developers and UIFellows from many colleges.He iterates that by being a UIFellow he's able to meet many like minded people as him who try to find answers for unknown and work towards making a better world a better place to live day by day.
In 2017,After attending the Silicon Valley meet-up,with the mentorship of APSSDC and UIF-Team he prepared groundwork to launch a Lean Start-up called spiderweb. Ajay recalls  before launching Spiderweb and he proudly says that his "Spiderweb is an Outcome of the UIF Program".Spiderweb is a 5 Phase start-up where the Social and Student problems can be solved by the students itself.It helps students propose and articulate the best possible solutions for the On-going problem and with the help of the "Dot Network".Student empowerement,women empowerement and change agent activities are the responsibilities of every Core team member of spiderweb.This acts as the platform for undergraduates learn new things and  promote Change.
He's a Fab for Eastern Hemisphere Meet-up twice in Bangalore in 2018& 2019 where he took part in organising a 3 day mini SVM.He represented UIFellows program in GJ Bajaj Institute of Management,Greater Noida.He's an active member of his college innovation centre I-Hub where he worked on prototyping  several techincal and innovative projects and he's been a mentor and guide to his juniors from his college for 2 years.
He's a book worm,plays guitar and works towards making world a better place to live.
His motto is "When you can't do big things, do small things in a big way"
---
---