Fellow:Aikaterini Petridou
Jump to navigation
Jump to search
Aikaterini Petridou(Katerina) is a University Innovation Fellow and an undergraduate student studying Computer Engineering and Mathematics at Union College, NY. Katerina has a twin brother and she comes from Thessaloniki, Greece. She is very grateful for the unique opportunity that was offered to her to pursue her passion in computer science and electrical engineering at Union College.
Katerina always loved connecting with people and creating a positive impact on others, thus she became a Resident Advisor from her sophomore year including her junior year. Katerina loves challenging herself academically and pushing her limits. She was curious and interested in robotics since 9th grade and was actively participating in robotics club. Once she came at Union College she joined from her first trimester the research team supervised by professor John Riefffel to learn and work on the soft robot, "tensegrity robot". She was fascinated by the mechanics of a tensegrity system and her passion for robotics intrigued her to continue conducting research till this year including both past summers. She really enjoyed working in teams in either the hardware or the software aspect of it. She is a co-author of the scientific paper"Low-Cost Wireless Modular Soft Tensegrity Robots" that was published and she presented it at IEEE International Conference on Robotics and Automation.
Future goals include an internship and PhD in the field of computer science, artificial intelligence.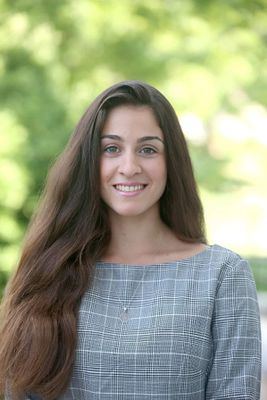 ---
---