Fellow:Abimbola Iyun
Jump to navigation
Jump to search
Abimbola Iyun in a University Innovation Fellow (UIF) and a PhD candidate in Mass Communications and Media Arts at Southern Illinois University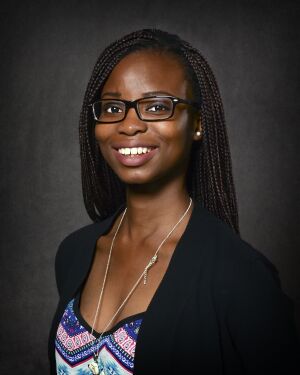 Carbondale (SIU). She received a Master of Science in Professional Media and Media Management also from SIU. Her focus is on how cinema can be used for social change and diverse representations for historically marginalized communities. Abimbola believes innovation is disruption that opens a space for diverse innovative ideas to be represented in society. She believes this is possible by collaborative work in society. Her love for collaboration and innovation inspired her to be a part of UIF.
Abimbola is passionate about representation and social change and has taught Alternative Media in Diverse Society and currently teaches Understanding Radio, Television and Digital Media. She is passionate about guiding students to understanding media and its correlation with socioeconomic structures in society. Her dissertation focuses on participatory and interactive media as a platform for diverse storytelling. She is also passionate about mentoring and is a co-founder of a mentorship organization on campus, MARP-U (Mentorship, Academic Development, Resource utilization, Professional development for U), which is actively involved in creating a culture of mentorship in SIU. 
Abimbola is from Nigeria and gained a Bachelor of Arts in Communication and Language Arts from the first university in Nigeria, University of Ibadan. She is passionate about connecting entrepreneurs to resources and people that help them realize their goals. When Abimbola is not working she is spending time meeting new people and collaborating on innovative ideas.  
---
---