Faculty Champion:Yuita Arum Sari
Jump to navigation
Jump to search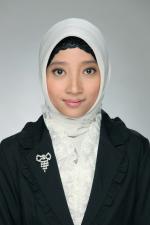 Name

Yuita Arum Sari, S.Kom., M.Kom.

School (Cohort)

Universitas Brawijaya (2021 cohort)

Majoring in

Lecturer of Informatics Engineering Programme

Country

Indonesia

Email

yuita@ub.ac.id
Bio
Yuita Arum Sari earned a bachelor's degree in computer science at Brawijaya University in 2011. Then she took her master's degree at the Sepuluh Nopember Institute of Technology (ITS) majoring in informatics engineering and graduated in 2015 with cum laude predicate. Furthermore, in 2014-2015 she had the opportunity to attend student exchange at the Warsaw University of Technology.
Now, she is active as a lecturer at Brawijaya University and Coordinator of the Functional Group of Lecturers of Mathematics and Statistics (KKJFD). Her area of expertise includes Pengolahan Citra Digital, Text Mining, and Machine Learning
Additionally, in 2021, she got MEXT Scholarship holder for a Doctoral course at Okayama University.
Achievements
Bachelor Scholarship from Development of Academic Potential Program (PPA Scholarship), 2008
The Finalist of National Student Creativity in Technology Program (PKMT), 2010
3rd Winner of National Design Product of National Brawijaya Entrepreneurship Competition, 2010
The Outstanding Student of Science Faculty, 2011
Cum laude Predicate of Bachelor Degree Student (S.Kom), 2012
Master Degree Scholarship, 2012
Master Exchange Scholarship by Interweave Erasmus Plus, 2014
Cum laude predicate of Master Degree (M.Kom) student from Institut Teknologi Sepuluh Nopember with GPA 3.88 out of 4.00, 2016
Best Presenter at Second Session of International Symposium on Computational and Business Intelligence, Dubai, 2017
Top 200 rank lecturer in Brawijaya University, 2020
MEXT Scholarship holder for Doctoral course at Okayama University, 2021
Social media profiles
---
---