User:Yumiliang
Jump to navigation
Jump to search
Yumi Liang is a senior studying International Business Major with a concentration in Global Trade at California State University, Fullerton. While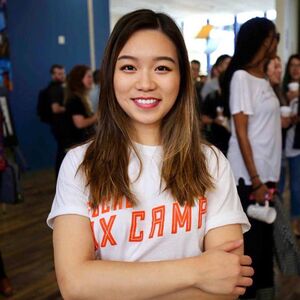 pursuing her degree, Yumi partakes in many organizations on campus such as American Marketing Association, Sigma Upsilon Mu (Business Fraternity), Future Business Leaders of America (where she recently held the presidency), and now Student Innovation Collective (where she holds her a current presidency). She also understands that the educational system can sometimes be limiting, which is why she takes on extra units at school in order to learn interesting hobbies such as glass blowing, ceramics, story structure, and even film. 
Yumi was born and grew up in a small town called Tinaquillo in Venezuela where she first encountered a clash of Chinese and Spanish cultures that inspired her to learn about different cultures. She began traveling at a very young age that ultimately allows her to build her strength of being highly adaptable in any environment. When she came to the United States in her early teen years, she began her journey in marketing through the use of the Adobe suite during middle school by making class posters and became quickly adapt to it. At the same time, she never had the luxury of her own library so instead began reading all her father's business and marketing books in substitute to not having her own ultimately reinforcing her goals to enter a business setting. Doing so, Yumi Liang had developed an interest in Moore's Law and how it is affecting everything from the way goods are purchased online through e-commerce, as well as for problems that she is most passionate about such as climate change. It is this outside perspective that creates her desire to use marketing to appeal to a wider, global audience.
In her spare time, Yumi Liang enjoys traveling, playing music and now building her OWN personal library!