User:Btejdeep
Jump to navigation
Jump to search
About Tejdeep: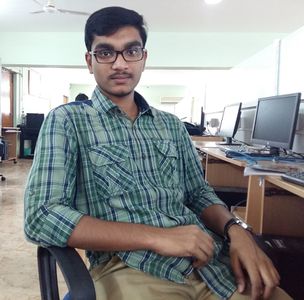 Mr. Tejdeep Bokki is an University Innovation fellow, who is pursuing his third year of his Bachelor degree in Jawaharlal Nehru Technological University-College of Engineering at Anantapur, Andhrapradesh which is one of the esteemed Universities in the state. He is one among the anxious and active persons in the college, where he showcased his talent and skills in various institutional activities.
                  He is a resident of Kadapa, a district in Andhra Pradesh, his father has been practising as an advocate since 18 years and he is an ardent follower

of his father. He admire his parents very much and imbibed many of their principles which made him a disciplined and good person by heart.He showed good performance in his earlier studies and secured a scholarship for his Undergraduate programme and he managed to utilize a part of it for education and the rest is saved for his future plans.

                He is an active and resolute personality and almost participated in every event in the college and showed a great interest particularly in management and entrepreneurial workshops and is a member in IEEE and done a great job in co-ordinating his group on IEEE day, which eventually was a tremendous success although the event was the very first celebration in our institution.I would like to add that he is humble in nature as well.He aslo played a vital role in organizing his department fest named Pixel and tookup an active role without getting vexed with the responsibilities he had and proved his committment towards the work he tookup and succeeded in managing the whole event along with his friends.


                  He is very much concerned with the poor children and always dreamt of providing the amenities to them. In view of this, he is planning to make big to them in providing all the resources to them with the help from his friends as he is short of financial help and looking for the right situation for his activities.

Other links:
Related Links: