School:Washington State University Vancouver
Jump to navigation
Jump to search
Introduction
Washington State University Vancouver was founded in 1989 and is one of the four campuses of the wider Washington State University system. WSU Vancouver is a research university committed to bringing great access to higher education to Southwest Washington.  As of fall 2013, WSU Vancouver offers 20 bachelor's degrees, nine master's degrees, two doctorates degrees and more than 37 fields of studies.  WSU Vancouver is becoming a premier research university and a northwest leader in digital technology and innovation.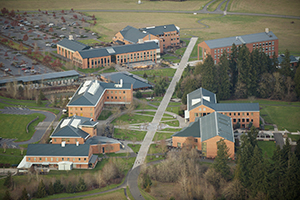 Student Innovation and Entrepreneurship
The campus ecosystem of Washington State University of Vancouver in terms of entrepreneurship and innovation is a developing one. Multiple programs and courses seek to generate awareness and the importance of entrepreneurial fundamentals to students and there are many outlets available to help students realize this importance and get involved in a deeper way.  Entrepreneurship is promoted well in multiple programs that include accounting, computer science, electrical and mechanical engineering, business administration and digital technology.  Under the direction of Dr. Joseph A. Cote, a professor of Marketing at WSUV, students are open to a course on small business policy which emphasizes information on market analysis, new product introduction, and stake holder contributions. 
The Creative Media and Digital Culture Program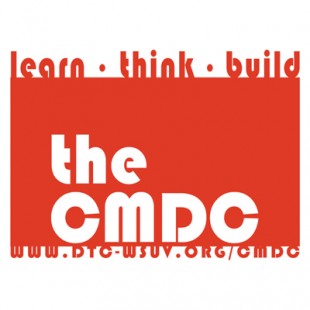 The CMDC[1]program at WSUV is home to the Digital Technology and Culture degree, one of the five Signature Programs offered.  The program emphasizes the power of innovation and integrates technology with education to create a diverse, rich-media experience for students.  It also offers multiple courses and extra-curricular opportunities for students to experience the future of their innovations in an entrepreneurial setting.  Under the direction of Dr. Dene Grigar [2] the program features the production of everything from mobile apps to interactive art exhibits.  It directs students to innovate through creativity, critical thinking and real world problem solving.  The students also have the invaluable experience of the Senior Capstone Course [3] that provides a real world experience for students to jumpstart their professional thinking and careers. 
Nouspace Gallery & Media Lounge
The CMDC Program is also home to the Nouspace Gallery & Media Lounge[4].  Nouspace is a showcase for exemplary work of innovative students in the program.  Gallery shows consist of student created pieces using digital media to solve problems or create cultural comments referencing the growing intersection of art, technology, and the humanities.  Nouspace also offers the opportunity for students to develop entrepreneurial skills in curating as they manage and organize exhibits. 
Creative Media Lab
Located in the Vancouver Multi Media Center, the creative media lab allows for CMDC students to create their works using the latest versions of software in an open environment.  The lab is open to all CMDC students and encourages the production of innovative products and designs. 
Extensive Engineering Lab Space
The WSUV School of Engineering and Computer Science offers multiple state of the art laboratories devoted to academics and research.  The new spaces, completed in 2011, feature student workstations with the latest software and hardware.  The lab space is open to all engineering student for innovation and features multiple spaces for specific purposes. 
Electrical Engineering Laboratories [5]
Digital Systems Laboratory (VECS 220) – "The digital systems laboratory contains function generators, oscilloscopes, digital multimeters, power supplies, high-end PCs, and printer. Various digital, analog, and microprocessor development and simulation software are available. The lab supports teaching activities for several courses related to digital logic design and microprocessors."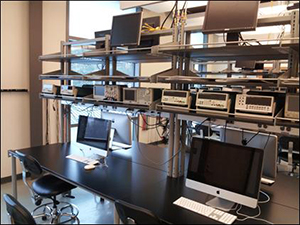 Electronics Laboratory (VECS 221) – "The electronics laboratory contains function generators, oscilloscopes, digital multimeters, power supplies, logic analyzers, curve tracers, high-end PCs, and printer. Various analog/digital development and mathematical analysis software are available. The lab supports teaching activities for several courses related to circuit analysis and electronics."
RF Teaching Laboratory (VECS 320) – "The RF (Radio Frequency) teaching laboratory contains RF signal generators, spectrum analyzers, microwave and microstrip trainer kits, digital multimeters, power supplies, a mixed signal oscilloscope, high-end PCs, and printer. 3-D full wave electromagnetic field simulation and mathematical analysis software are available. The lab supports teaching activities for courses related to RF circuit design, antenna design, and microwave theory."
Power Systems Laboratory (VECS 327) – "The power systems laboratory contains three-phase and single phase transformers, dissectible machine trainers, three-phase synchronous motors, single phase and three-phase induction motors, dynamometers, power supplies, digital voltmeters, and high-end PCs. The lab supports teaching activities for courses related to energy systems; power conversion, transmission, and storage."
Cleanroom Laboratory (VECS 040) – "The laboratory consists of a class 100 cleanroom with 1700 square feet of lab space. The lab includes three bays for thermal/diffusion/anneal, photolithography, and metal deposition. The lab is used for research projects and supports teaching activities for courses related to IC fabrication and testing."[6]
Computer Engineering Labs
"Two computer science teaching laboratories containing multiple student workstations are equipped with the latest iMac computers which run Apple OS X, Linux (CentOS) and Microsoft Windows.  Each operating system environment includes all of the tools and applications needed by computer science students in their coursework along with common desktop productivity tools.  When classes are not being taught in these laboratories, they are open to general use by Computer Science and Electrical Engineering students. Facilities also include two open computer laboratories with additional computers having the same capabilities as the teaching laboratory machines.  These laboratories are open for student use any time the Engineering and Computer Science building (VECS) is open."[7]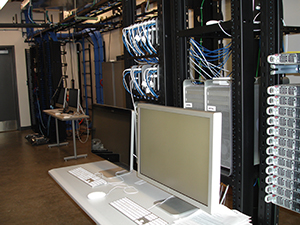 CS Teaching Lab (VECS 325)
Open Computer Lab (VECS 323)
ENCS Network Server and cluster facilities
Cluster Facilities
Mechanical Engineering Laboratories[8]
Automation laboratory [9] – "This laboratory contains various automation hardware, PLCs, servo training systems, lab instruments and high-end PCs. The lab supports research activities and mechatronics courses."
Computer-aided design (CAD) laboratory (VSCI 255) – "The computer-aided design laboratory contains iMac computers that run three operating systems (Mac OS X, Windows, Linux). Various CAD/CAM, Finite Element and mathematical analysis software are available. Faculty hold some of their lectures in this laboratory to provide hands-on learning with software. This laboratory is also a gathering place for students while working on their homework and project assignments."
Computer-aided engineering (CAE) laboratory (VSCI 251) – "The computer-aided engineering laboratory contains a high-resolution Micro Computed Tomography (micro-CT) Scanner, a three-dimensional Laser Scanner, Finite Element Analysis software, Reverse Engineering software, Micro-System Design software and high-end PCs. This lab supports research activities and CAE courses."
Device diagnostics and microelectronics laboratory (VSCI 155)[10] – "The Microelectronics Learning Laboratory consists of approximately 1200 square feet of lab space. Physical layout of the lab includes a class 100 capable clean room for IC fabrication and packaging, two rooms for device analysis, and a specimen preparation room, clustered into a suite around a central foyer." The design of the lab accommodates three major functions:

IC fabrication
Packaging
Device diagnostics
Entrepreneurial Minded Clubs
WSUV has a growing entrepreneurial focused club system.  Students play an integral part in the fostering of entrepreneurship and under the Office of Student Involvement they have formed multiple entrepreneurial clubs including WSUV DECA[11], KougRadio[12] and others. 
Professional Sales
The Professional Sales Certificate Program[13], under the direction of Dr. Ron Pimental, prepares performance ready sales professionals for successful careers. The program is open to all majors throughout the campus and enhances professional sales expertize and collaborates closely with local businesses for experienced based learning.  Professional Sales students also have the opportunity to participate in a variety of collegiate sales competitions [14] to further develop their selling skills.
The Future of Student Innovation and Entrepreneurship at WSUV
WSUV has the potential to grow a strong entrepreneurship influence in their region.  They have multiple plans for the future including developing multiple special topics and independent study courses for innovative students to collaborate and invent under the direction of a faculty mentor.  These courses would allow for school time and resources to give the students initial starting ground for ideas.  Innovative Faculty in this area include Dr. Dene Grigar, Dr. John Barber, and Dr. Joe Cote.  The nomination of a University Fellow under the NCIIA will also aid in bringing a student started entrepreneurial future to campus.  The University Fellow for 2013, Brittany Wouden, has begun by forming a student team out of Nouspace Gallery to coordinate multiple shows and workshops throughout the school year to encourage students to take their ideas from concept to innovation and have the opportunity to present to an interested public.           
Faculty Innovation and Entrepreneurship
WSUV markets itself as a premier research university, encouraging faculty to conduct research of regional, national and international impact. By offering state of the art lab space, the ability to collaborate with one another, graduate students and under graduate students, the faculty promotes innovation strongly on the campus.  Although the focus of faculty research has a tendency to lean towards the more innovative side, the entrepreneurial mindset is growing among the faculty and being passed along to their students. The university also provides a quarterly newsletter [15] describing the research of their faculty.
Research Showcase
Washington State University Vancouver holds an annual research showcase[16] where students and faculty are encouraged to display and discuss their work.  The show highlights research ranging from digital technology, to biology and engineering and even business administration work.  The showcase also brings many keynote speakers and offers faculty and students the chance to win awards and learn more about the research of their peers.
Notable Research among Faculty
Christine Portfors
Christine Portfors, associate professor of biology and neuroscience and head of the Hearing and Communication Laboratory at Washington State University Vancouver, has received two federal grants totaling more than $1.1 million over three years. The grants will be used to study how neurons in the brains of mice detect, discriminate and categorize the different types of sounds mice use to communicate.[17]
Advanced Materials and Manufacturing Lab headed by Dr. Dave Kim
The most current projects of the Advanced Materials Lab[18] include the development of advanced tool for drilling composite/titanium stacks, structural integrity evaluation for marine/wind energy system structures, and the interference-fit process development of the composite joints. These projects are funded by a wide range of agencies and industries, including Boeing, NSF I/UCRC ACTT, US Army Research Lab, SME Education Foundation, Fatigue Technologies, Phygen Coatings, Christensen Shipyards and WSU Vancouver. The Advanced Materials and Manufacturing Lab has been actively participated in collaborative research with global companies (Boeing Co., Freightliner, etc.), local industries (Stresswave, Fatigue Technologies, Christensen Shipyards, etc.), and other universities (UW, MSU, FSU, etc.). They are always looking for dedicated students and volunteers for their research and collaborative projects.
Creative Media Faculty Research
CMDC students are encouraged to work with their faculty on research and creative projects.  According to the official CMDC site current faculty research includes: Dene Grigar's "The Electronic Literature Showcase" for the Library of Congress, April 3-5, 2013, funded by a $5000 Meyer Award; John Barber's "Brautigan.net" , the internationally recognized online bibliography and archive for Washington-born author Richard Brautigan; Grigar and Brett Oppegaard's "A Villager's Tale" for funded by the National Endowment for the Humanities ($50,000), and "The Grand Emporium of the West" for EDSITEment!, funded by the National Endowment for the Humanities ($19,418); Will Luers' "Plotting the Database, a multimedia essay produced for the Scalar platform; Michael Rabby and Oppegaard's "The Old Apple Tree App," a comparative analysis focusing on user experience; Brenda Grell's 3D abstract animations and full dome design and development aimed for OMSI's Kendall Planetarium; Nicholas Schiller's article on Search Engine Optimization, knowledge, and information literacy; and Clare Wilkinson-Weber's book, Fashioning Bollywood: The Making and Meaning of Hindi Film Costume Berg, 2013. [19]
Resources for Faculty Entrepreneurship
The faculty at WSUV have multiple resources for their entrepreneurial endeavors.  WSUV offers a Research Mini-Grant[20] to stimulate research productivity and provide "seed" funds for projects. WSU wide also offers a program called WSU Scholars[21] a program that works closely with private industry and national labs to support the translation of basic research to innovative applications that benefit society.
University Technology Transfer Function
Currently the Vancouver campus of Washington State University doesn't have their own technology transfer function.  The main WSU campus in Pullman, Washington has experienced tremendous success with their program through the Office of Commercialization[22].  The long term plan through the Campaign for Washington State[23] includes the construction of an Innovation Research Park[24].  The Innovation Research Park is a high-priority project to help support southwest Washington's growing technology center and bring long-term benefits to the region.  The projected date for the Campaign for Washington State is 2015.
University-Industry Collaboration
The university and industry collaboration ranges from a small business network to collaboration with industry manufacturing leaders like Boeing.
Cougar Business Alliance
A relatively new service at WSUV, the Cougar Business Alliance[25] seeks to facilitate continued alumni participation with current students. Participation includes quarterly meetings to provide an opportunity to meet area Cougar business owners and improve camaraderie and business. Members include small business entrepreneurs that have successfully started their own business or franchise and want to stay connected to the greater entrepreneurial mind of WSUV
Robotics Lab
Through funding from the M.J. Murcock Charitable Trust[26] the robotics lab at WSUV is developing an interdisciplinary renewable energy option track[27] in the robotics program to bring together students from mechanical engineering, electrical engineering, and computer science to study the future of renewable energy. 
Advanced Materials and Manufacturing Lab Projects
The current projects of the advanced manufacturing lab include development of advanced drilling tools, funded by a variety of agencies including Boeing, NSF I/UCRC ACTT, US Army Research Lab, SME Education Foundation, Fatigue Technologies, Phygen Coatings, Christensen Shipyards and WSU Vancouver.
Regional and Local Economic Development Efforts
Innovation Partnership Zone Vancouver
In October of 2013 Washington State University Vancouver helped the city of Vancouver receive a designation as an Innovation Partnership Zone. "The state Department of Commerce named portions of Vancouver and Camas as an Innovation Partnership Zone, or IPZ. It's an important designation, in part, because it gives the region additional leverage in seeking grant dollars to help pay for projects aimed at growing digital technology industries."[28]   A possibility of this designation is the opportunity to develop incubator space for grad students to come work with new companies.  The IPZ's overall goal is to establish a framework for collaboration between higher learning institutions and industry, particularly new companies. 
Fort Vancouver Mobile
A collaboration between the CMDC program and the Fort Vancouver National Historic Site allowed for students and faculty to create a mobile storytelling project.[29]
Other
The current entrepreneurial system offers students the opportunity to perceive the importance of entrepreneurship and realize the potential that it can have for them.  The opportunities to advance beyond into applied and realized entrepreneurship are minimal.  Senior seminars and capstone design classes give some design opportunity but prevent students from exposure to entrepreneurship till their senior year in higher education.  It is through new student driven organizations that changes will begin to be made.  Spring 2014 will see the first entrepreneurial collaborations between disciplines and the possibility of build and startup weekends. New student groups within the Nouspace gallery, under the direction of the CMDC program and the University Fellow will bring new show and gallery opportunities to STEM and art students with a focus on innovation and entrepreneurship.  The future goals of WSUV will have a heavy focus on entrepreneurship and the new designation by the Department of Commerce of Vancouver as an Innovation Partnership Zone will only help to bring this focus to the greater community. 
Landscape Canvas
Related Links
Washington State University Vancouver Student Priorities
References
---
---