School:Virginia Commonwealth University
Jump to navigation
Jump to search
Background

Virginia Commonwealth University (VCU) is a public research university located in Richmond, Virginia. VCU was founded in 1838 as the medical department of Hampden–Sydney College, becoming the Medical College of Virginia in 1854. In 1968, the Virginia General Assembly merged MCV with the Richmond Professional Institute, founded in 1917, to create Virginia Commonwealth University. Today, more than 31,000 students pursue 222 degree and certificate programs through VCU's 13 schools and one college. The VCU Health System supports the university's health care education, research and patient care mission.
da Vinci Center
VCU schools of the Arts, Business, and Engineering have collaborated to create the VCU da Vinci Center for Innovation in Product Design and Development. Student teams from these schools take on a product development or design challenge posed by one of the Center's industry partners. Such cross-disciplinary educational opportunities prepare students for management roles in the global, technology-driven workplace of the 21st century. In addition to the current collaboration, the College of Humanities and Sciences joined the Center late in the fall 2012 semester. The VCU da Vinci Center currently offers an Undergraduate Certificate and a Masters degree in Product Innovation. The Masters of Product Innovation is the first of its kind in the United States. The center was recognized by a report presented to President Obama as one of the 29 best programs to offer a STEM (science, technology, engineering, and math) degree. It was the only program in Virginia to be included on the list.
Student Entrepreneurship Organizations
VCU hosts three different student entrepreneurship groups. The service-based entrepreneurship group Startup VCU is located in the school of Business. The creative entrepreneurship group ArtUp is located in the school of the Arts. The product-based entrepreneurship group Seed is located in the school of Engineering. All three student entrepreneurship groups collaborate through the Entrepreneurship Council and co-host events like the Red Paperclip Challenge and Sustain RVA. These organizations are supported by the university initiative Venture Creation University (VCUsquared) which hosts campus-wide events.
Richmond
The city of Richmond is extremely supportive of collegiate entrepreneurship. 804RVA is a co-working space that holds events geared toward young business-leaders. Lighthouse Labs and 80amps are two prominent accelerators that accept promising businesses.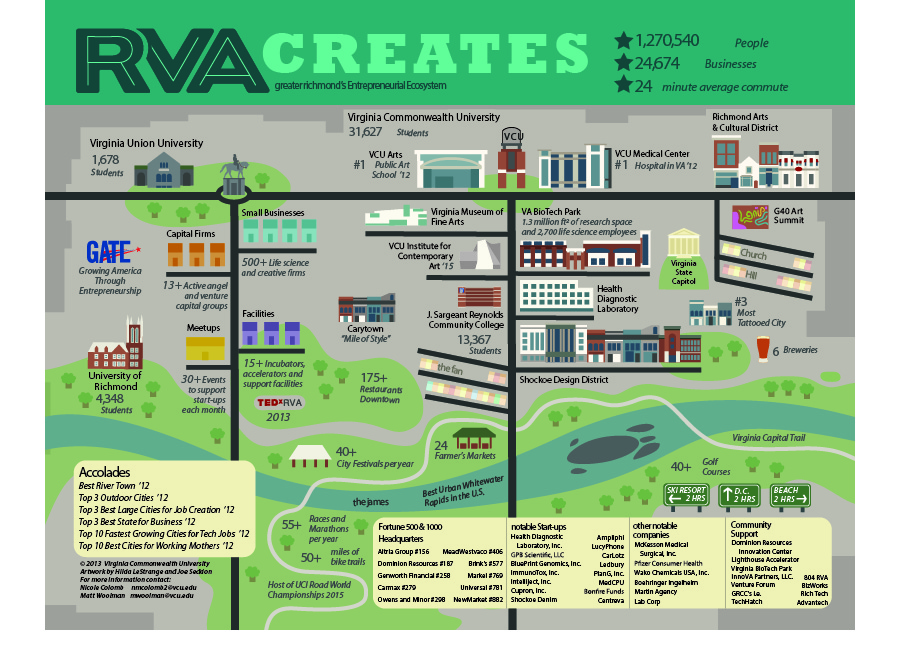 Contests and Investment
The VCU da Vinci Center offers the Venture Creation Competition in the spring of every year. Last year the contest awarded $24,000 to 10 student teams. The Chamber of Commerce hosts the yearly competition i.e. which awards $10,000 for a local startup.
Multiple investment groups are present in the city and interact regularly with VCU. Dominion Angels and New Richmond Ventures bring new businesses to Richmond.
Innovation Landscape
Following are student-produced analysis of the innovation ecosystem on this campus:
Elliott Roth's Landscape Analysis (Presentation Summary):
Finding your secret super power:
Elliot's secret super power is time travel. He has a giant vision, always thinks ahead, and comes up with big ideas.
This super power is very helpful when he's coming up with ideas, but it isn't particularly detail-oriented.
Elliot tries to pair himself with engineers who can help him plan and execute his ideas, balancing his strengths with the strengths of others.

Society for Engineering and Entrepreneurial Design (SEED):
One of the main points of SEED is to offer people credit for the projects they work on outside of the classroom.
Elliot met with department chairs to gain support for SEED's initiatives at VCU. This included Engineering, Art, and Business School chairs who all seemed very receptive to SEED's ideas.
SEED is seeking a partnership with the greater Richmond community because there isn't a huge entrepreneurial drive at VCU aside from the campus Da Vinci center for solving problems at companies.
SEED is talking to the VCU brand center to find mentors for SEED projects.
SEED is talking to the InnoVArium project space for design teams, hoping to partner with them soon.

Advice from Elliot Roth:
Contact people as much as possible and build partnerships.
"Cold emailing" (emailing strangers) can be very challenging—try to find people who can introduce you to a contact via email, to increase the response rate.
University Innovation Fellows: Elliot Roth and Andrew Batz
---
---